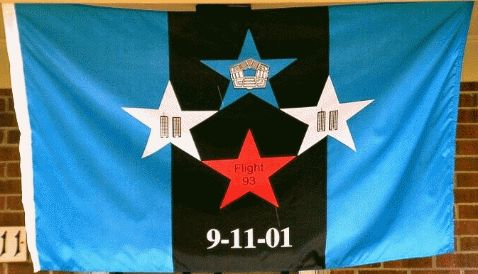 2002
Following the tragedy that struck our nation on 9/11/01, we like thousands of other Americans wondered what we could do to help. We knew that a monetary donation would be appreciated, but felt compelled to do something more. It was just a few days after the 11th, that two news commentators were speaking of the tragedy, and relating it to Pearl Harbor. It was disheartening to hear them say they did not recall the date of the attack (12/7/41). Not too far down the road after hearing this, was a POW/MIA flag flying (a flag which we has always been very meaningful to us).
It was a combination of the above, along with our desire to do something to help that brought us to the idea of creating the remembrance flag. We felt the creation of a flag would provide an everlasting remembrance to the innocent lives lost. Further, we felt that selling them would provide many people the opportunity to share in displaying their remembrance to the lives lost, as well as the proceeds providing ongoing donations to the various relief efforts.
In designing the flag, we wanted to insure that we respectfully and equally represented each site where a tragedy had occurred that day - thus the center stars holding a silhouette of the Pentagon and Twin Towers; and the words "Flight 93". We also wanted to include a portion of the flag that would express everyone's sorrow. This is the portion of you reaching out to the victim's families. The black in the center panel of the flag represents this. The two blue panels are the colors of the state flags where each plane was downed: New York, Pennsylvania & Virginia. The color of the stars: (red, white and blue) is representation of the colors in our United States Flag.
Once the design was drafted on the computer, we looked through hundreds of other flag designs to insure there were no conflicts of designs with any other flags. We filed for copyright on 9/25/01. Being two individuals, not a company, the time from conception to actual manufacture of the flags was a long road, but eventually, the flags were available to the public. Of course at this time, all of the flag manufacturers were backed up with the immense increase in orders for US flags. After several months of searching, we made contact with Patrice Corletta of Stars & Stripes, The Flag Store (a project of the Veterans Outreach Center) in Rochester, NY. Patrice liked the design, and was willing to contact the manufacturer she deals with to produce the flags for us.
---
2003
As we approach the 2nd anniversary of 9/11, we have continued our efforts with making our flag design available to people. We have had the opportunity to meet thousands of people and feel very positive about their response to what we are doing. We continue to receive letters, cards and e-mails of appreciation for our efforts. Many family members who lost loved ones on that day have touched our hearts with their kind words of thanks for providing such an honorable remembrance to their loved ones. Those few simple words make our efforts truly rewarding.
This past month, our flag was raised at the 9/11 Memorial site at the New York State Fair. Being lifelong residents of NY, this was truly an honor. Thousands of people were able to visit the site there and view the flag we designed in memory of that day.
As the lives lost on that day will never be forgotten, nor will the words of appreciation we have received from everyone we have met. Thank you to everyone who has so kindly helped by showing their support for our flag design.
Stephen & Joanne Galvin
---
2004
The past year has once again been very busy for us. We have continued with our dedication to the flag and succeeded in efforts to make more and more people aware of the design. The flag has been sold to people in 27 states, as well as being present in 6 countries. We are honored that the flag is with many of our US soldiers who are defending our country overseas.
The letters and phone calls we continue to receive are a testimony to the thoughts of others, and we can't express enough our thanks to those that take the time to write or call.
This past year, Senator Michael Nozzolio submitted a bill to State Legislation regarding 9/11 flags. This bill will allow 9/11 Remembrance Flags to fly on all state and municipal buildings in NY.
Although the proceeds from the sale of flags go to various relief efforts, the primary recipient at the present time is the American Legion 9/11 Memorial Scholarship Fund (American Legacy Scholarship). This fund provides college money to children of military personnel who lost a parent on 9/11 - or in the war against terrorism since that time. We were honored to receive a letter from the American Legion a short time ago - informing us of the first recipient of this award.
Once again we extend our heartfelt thanks to everyone who has helped us in our efforts. Our efforts to date have been successful because of your support.
Stephen & Joanne Galvin
---
2005
It has been extremely hard to try and write a paragraph to summarize 2005. I can only say that Steve will forever be remembered for all the hard work and dedication to the flag that he designed. I will continue the best that I can to insure that people continue to become aware of the flag. I was deeply touched at local ceremonies this past year where they recognized Steves passing, and praised him for all he had done with the flag.
Thank you to everyone who has continued to purchase flags and help with our efforts.
Joanne Galvin
---
2006
As we have memorialized the 5 year anniversary of 9/11/01 this year my thoughts went back to where we were on that day; and the changes that have evolved since then. I continue to attend ceremonies, and make donations of flags to events that are related to 9/11. Thank you to everyone for their continued support in my efforts with the 9/11 National Remembrance Flag and insuring that those we lost and the families left behind are not forgotten.
Joanne Galvin
---
2007
During this year I once again had the honor of attending ceremonies and dedications of the 9/11 National Remembrance Flag. As we close the calendar year, the number of flags that have been sold/donated has reached 27 states and 4 countries. I had the opportunity this year to travel to Dallas, PA. I was extended an invitation by Mr. Tony Mussari to make a presentation of a flag to Windsor Park during their annual Irish Teachers Festival. I was very pleased that Steves parents, (William & Vivian Galvin), and Steves brother (Tom Galvin) were able to make the trip as well. In addition, a close friend, Wendy Ingersoll attended. During the presentation, I was honored that Mr. Chuck Wagner (Flight 93 Ambassador) and his wife Jane took part in holding the flag. In addition, Doug McMillan, his wife Chivon, and their son Adam held the flag. Doug was a close friend of Todd Beamers (Lets Roll) on Flight 93. It was a great honor to meet everyone and they immediately made us all feel welcome and such an important part of the Festival. I am always amazed at the friendships that have resulted from my journeys with the flag. I know that Steve would be so happy to know that so many continue to praise him on his flag design.
Joanne Galvin
---
2008
The journeys that the flag have taken me on this year, are ones that will forever be remembered. In early August of this year, I received an invitation from Mr. James Laychak (Pentagon Memorial Fund). This invitation was to attend the dedication ceremony on 9/11 at the Pentagon. It was through donations that had been made to the fund that an invitation was extended. Beyond being able to attend the ceremony, I was extended a very personal honor. A dear friend, who lost her husband on 9/11, asked me if I would place flowers on the bench of her late husband. I cant put into words how this made me feel. Thank you so much for this honor Trish. I was also glad that my son, Dan, was able to meet me and attend the ceremony. In mid August I received an e-mail from a gentleman in Lynchburg, VA. He was writing to get information on the flag, and expressing an interest to carry the flag during an annual race in his town (Virginia 10 Miler on 9/27). In addition to the flag being part of their color guard during the race, a flag was given to each of the winners of the race (1 male 1 female). The help that this individual gave me with furthering exposure of the flag was amazing. Many thanks Pete. On the weekend of September 27th I traveled to Shanksville, PA. It was a planned trip to once again meet with Mr. Mussari and his wife, Kitch. This is an annual trip that Mr. & Mrs. Mussari have been making since 9/11 and a visit where he has been filming episodes for Windsor Park Stories Changed Forever. During this visit, Mr. Mussari was doing some of the filming for the episode regarding the 9/11 National Remembrance Flag. Once again I was so grateful that Dan could make the trip. During our visit we were also introduced to Mrs. Val McClatchey; the woman who took the photo from her home immediately after Flight 93 crashed. She shared her story of that day with us, and was gracious enough to provide each of us with a copy of her photo End of Serenity. From flags that were sold and e-mails that accompanied them, I know that the flag was part of many of the 9/11 ceremonies held this year. To all that have purchased a flag my sincere thanks. To date the flag is now being flow in 37 states and 7 countries. My efforts continue with whatever I can do to make the flag design known and to insure that we never forget. Thank you to everyone who has been so kind and generous in your notes, and purchases of the flag items. It is with your help that I continue to be able to make donations to the many relief efforts related to 9/11. One last thank you that I have regrettably not noted over the years: Many sincere thanks to Chris Palermo. Chris designed the website for the flag, and continues to keep the website updated from materials submitted to him. Thank you Chris!!!!
Joanne Galvin
---
2009/2010
Everyone I have met over the past several years continues to be a great help to me in continuing to spread the word on the 9/11 National Remembrance Flag. I honestly couldn't do it all without their continued support and dedication. After 8 plus years of support on the flags website " Chris has retired his responsibilities so to speak. His family and career has grown to the point he just didnt have the time. His endless support in keeping things updated promptly has always been sincerely appreciated. I was fortunate enough to have someone else offer to lend their time to continue where Chris left off. Jim has been kind enough to continue w/adding updates and making changes as I send them to him. I cant say thank you enough for your support Jim. I continued, as in years past, with attending ceremonies and making flag dedications throughout the year in 2009. Sadly I have noted that attendance at 9/11 ceremonies over the years has declined. Although I know that everyone has to move on with their lives I truly hope that within their busy schedules they take time to insure that we never forget 9/11/01. So many families lost a loved one that day and they need to be remembered. Thank you again to everyone for all of their support.
Joanne Galvin
---
2011
2011 was a busy year and also that we commemorated the 10th anniversary of 9/11/01. So much has been done by countless towns and cities to insure that we never forget the lives lost on 9/11/01. I am honored that the 9/11 National Remembrance Flag continues to be used at many memorial services held. Of special significance this year, were the efforts from Senator Michael Nozzolio. The bill that he submitted to State Legislation was finally voted on in the Senate in June of this year. This bill (S3538-A) was an effort to make the 9/11 National Remembrance Flag the official flag for the State of New York as a remembrance to 9/11. The bill was passed through the State Senate with a vote of 59-2. Unfortunately, the State Assembly would not vote on the bill before the legislative session ended. It was then that we became aware Gov. Andrew Cuomo unveiled an official September 11th flag for the State of New York. Although disappointed, please know that the efforts with the 9/11 National Remembrance Flag remain ongoing. Thanks so much to everyone who continues to support me with my efforts.
This year was also the last year of an annual visit to Shanksville, PA coordinated by Dr. Anthony Mussari from Dallas, PA. Dr. Mussari and his wife have been bringing groups of people to Shanksville, PA since the 1 year anniversary of 9/11. During these visits the groups visited the temporary memorial, as Dr. Mussari continued with his Face of America Project honoring the memory of 9/11/01. The people I have met from my visits over the years are truly held close to my heart. Tony and his wife, along with all the people I have met through these visits are truly amazing people. Thank you Tony & Kitch for all you have done over the years. Joanne
Joanne
---
2012 - 2014
I was deeply honored in 2014 to attend the commissioning ceremony of the USS Somerset in Philadelphia, PA. The 9/11 NRF was chosen by the US Navy to be among 2 Remembrance Flags to be flow on the USS Somerset. This naval ship was named in remembrance of Flight 93 that crashed in Shanksville, PA on 9/11/01. The USS Somerset is the last of three Navy ships to be commissioned in memory of 9/11, following the USS New York in 2009, and the USS Arlington in 2013. The navy requested a flag in the size of 13 x 15 feet. In addition, I received an invitation to attend the dedication held on March 1st at Penns Landing in Philadelphia, PA. It was an honor to attend.
Joanne
---
2015 - 2019
It has been several years that I have added yearly updates on the flag and events. Sadly, as years pass by, there seems to be less activity and ceremonies. Please note though, that the flags, pins, and stickers are still available for purchase. My sincere thanks to everyone who continues to support the 9/11 National Remembrance Flag.

Kindly,
Joanne