2002 | 2003 | 2004 | 2005 | 2006 | 2007 | 2008 | 2009 | 2010 | 2011 | 2013
---
2002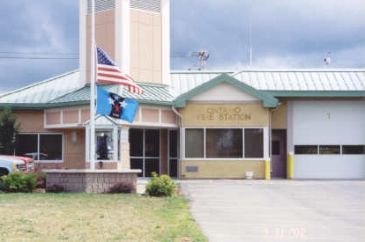 9/11 NRF being displayed at Ontario Fire Department
Ontario, NY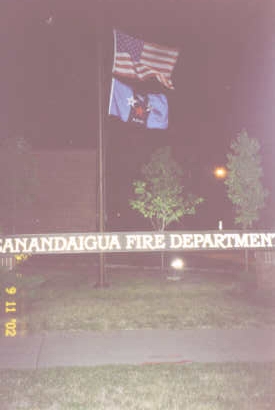 9/11 NRF being displayed at Canandaigua Fire Department
Canandaigua, NY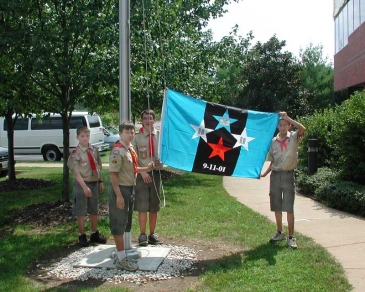 USDA Training & Development Center
Fredricksburg, VA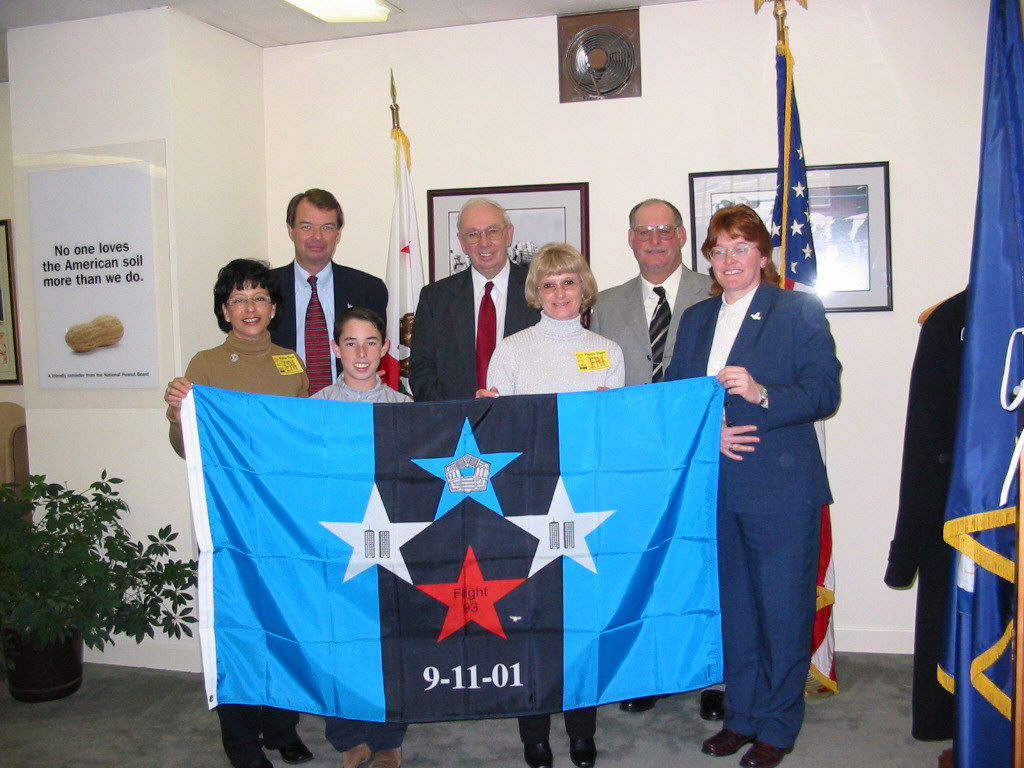 Visit to USDA - Washington, D.C. - Dec. 6, 2002
(L-R) Back Row: Robert Keeney - Fruit & Vegetable Program's
Deputy Administrator, A.J. Yates - Administrator of the
Agricultural Marketing Service, Stephen Galvin.
(L-R) Front Row: Patricia Scales,. Ashton Scales, Joanne
Galvin, Leanne Skelton - Chief, Fresh Produce Branch, Fruit and
Vegetable Programs.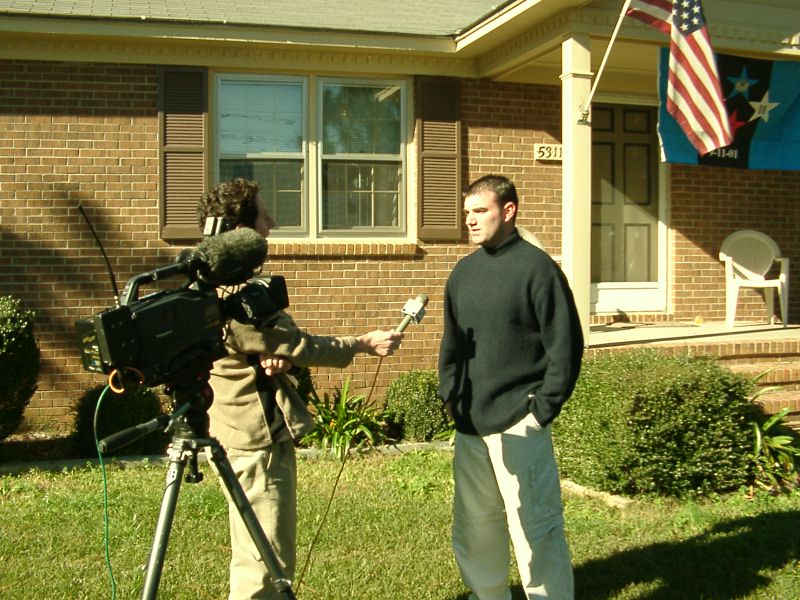 Dans interview on flag - Goldsboro, NC - 2002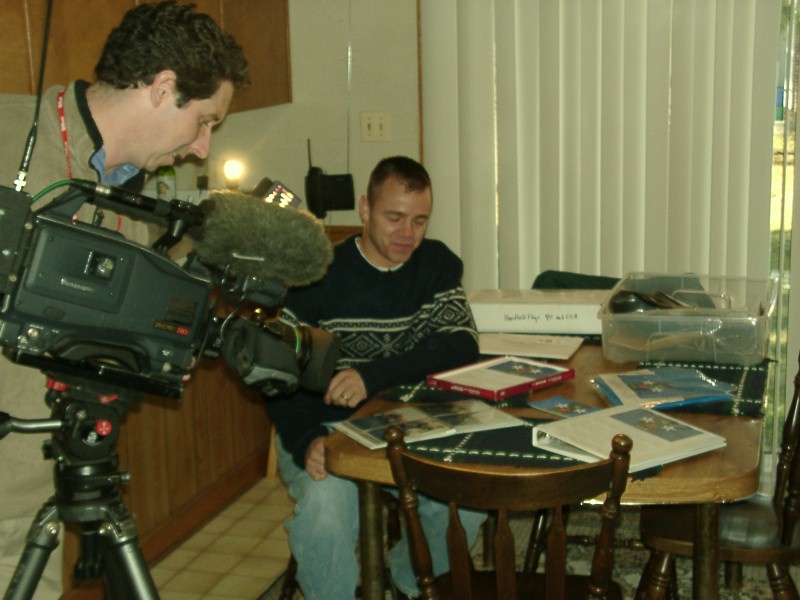 Brians interview on flag - Goldsboro, NC - 2002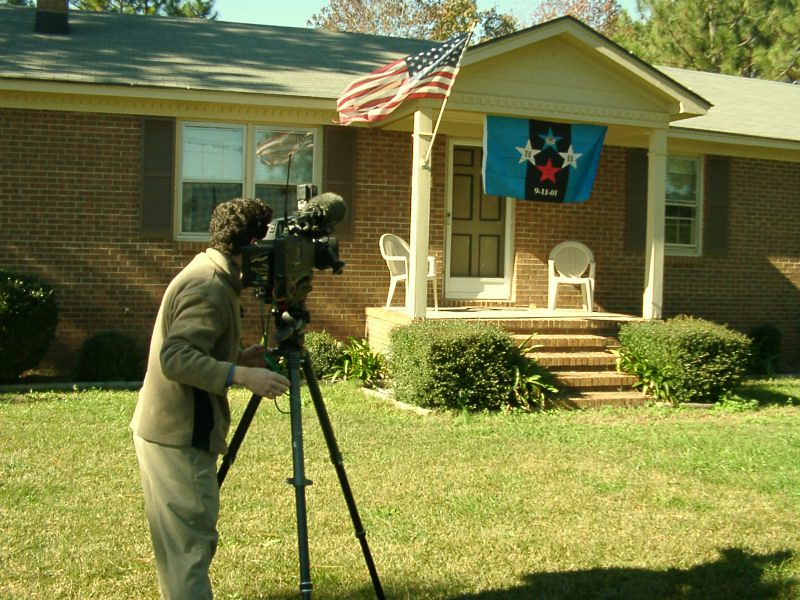 Local Television interview w/Dan & Brian Fitzmaurice
Goldsboro, NC - Nov. 28, 2002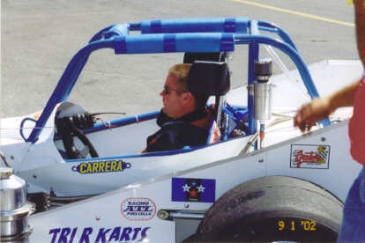 9/11 NRF sticker on racecars
Oswego Speedway Classic Weekend - 2002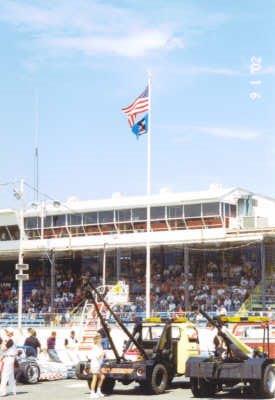 9/11 NRF - Oswego Speedway - Classic Weekend
Oswego, NY

9/11 NRF - Village of Wolcott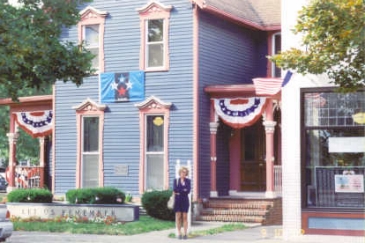 9/11 NRF - Stars & Stripes (Veteran's Outreach Center)
Rochester, NY

9/11 NRF - Seneca County Court House
Waterloo, NY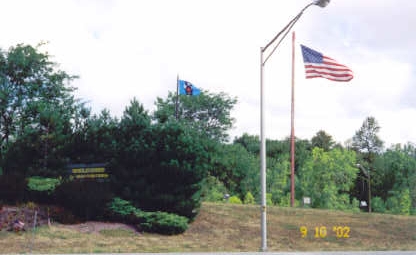 Rochester, NY
Interstate 490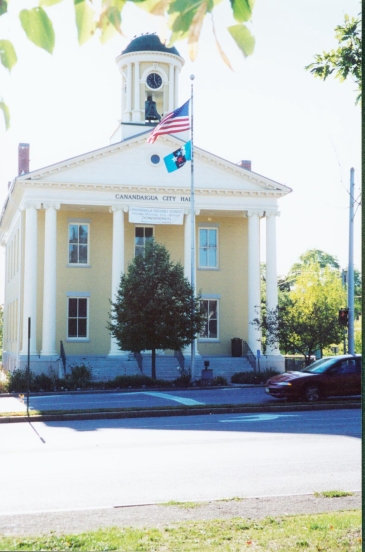 9/11 NRF - Canandaigua City Hall
Canandaigua, NY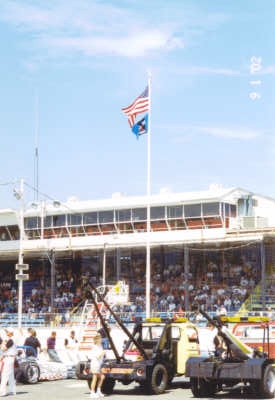 Oswego, NY
Oswego Speedway
back to top
---
2003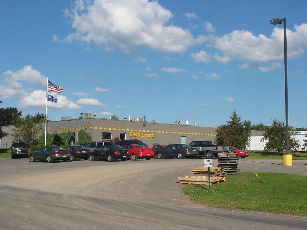 9/11 NRF at Electromark - Wolcott, NY
Electromark manufactures our 9/11 stickers.
Special thanks to everyone for all they have done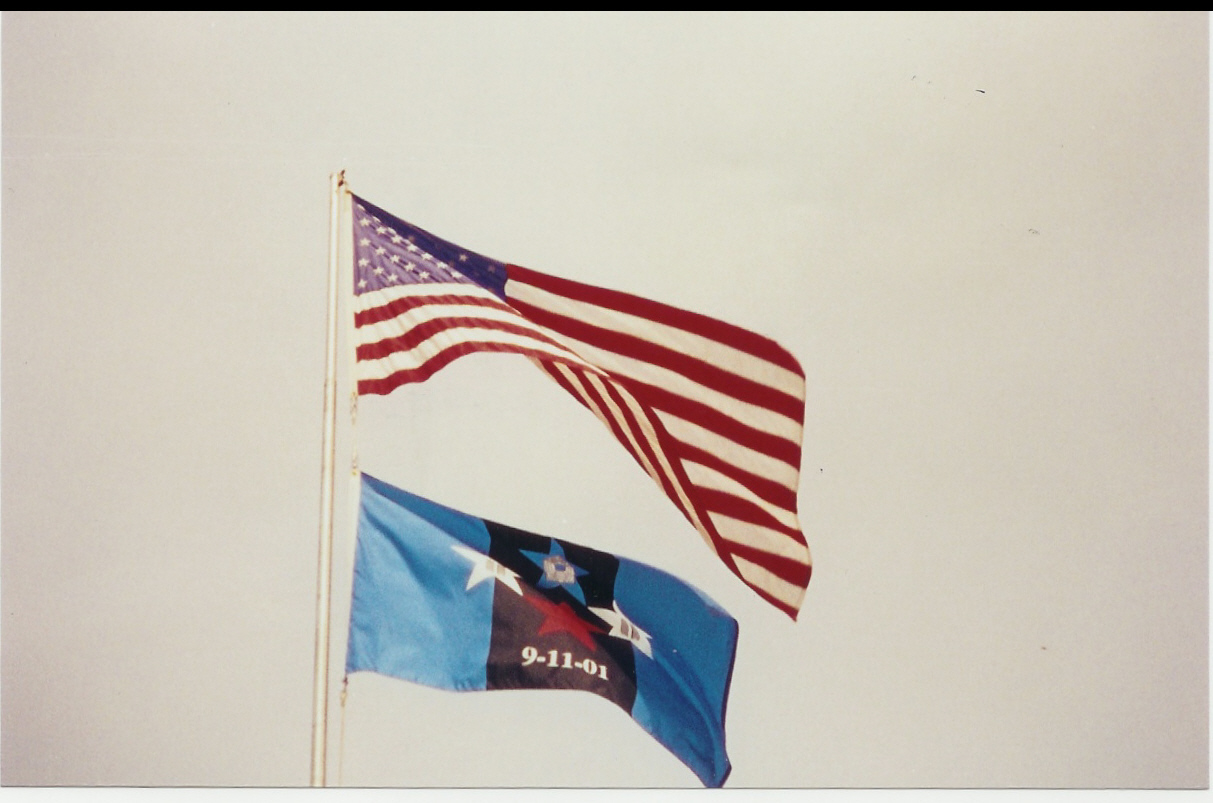 9/11 NRF at home in Springfield, Oregon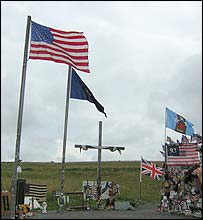 9/11 NRF at Shanksville Temporary Memorial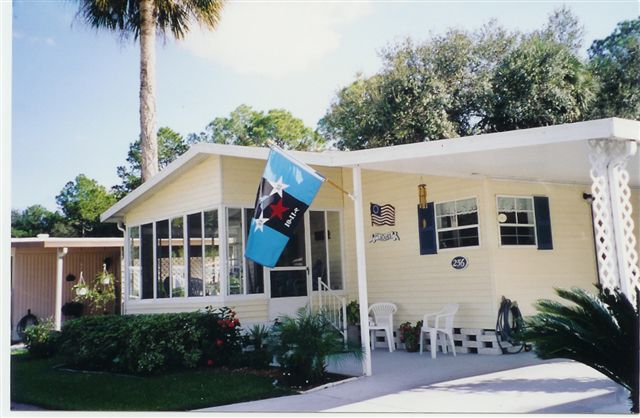 9/11 NRF at home in Eustis, Florida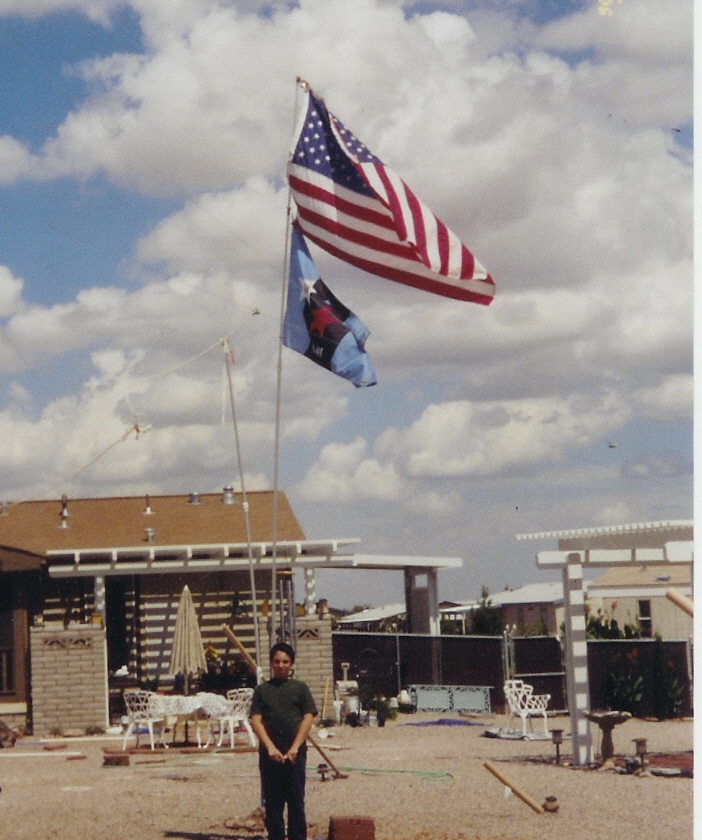 Ashton Scales, Sierra Vista, AZ, Son of COL David M. Scales,
US Army, Pentagon, 9/11/01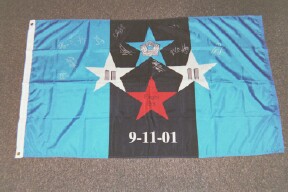 Flag signed by Buffalo Bills - Sept. 2003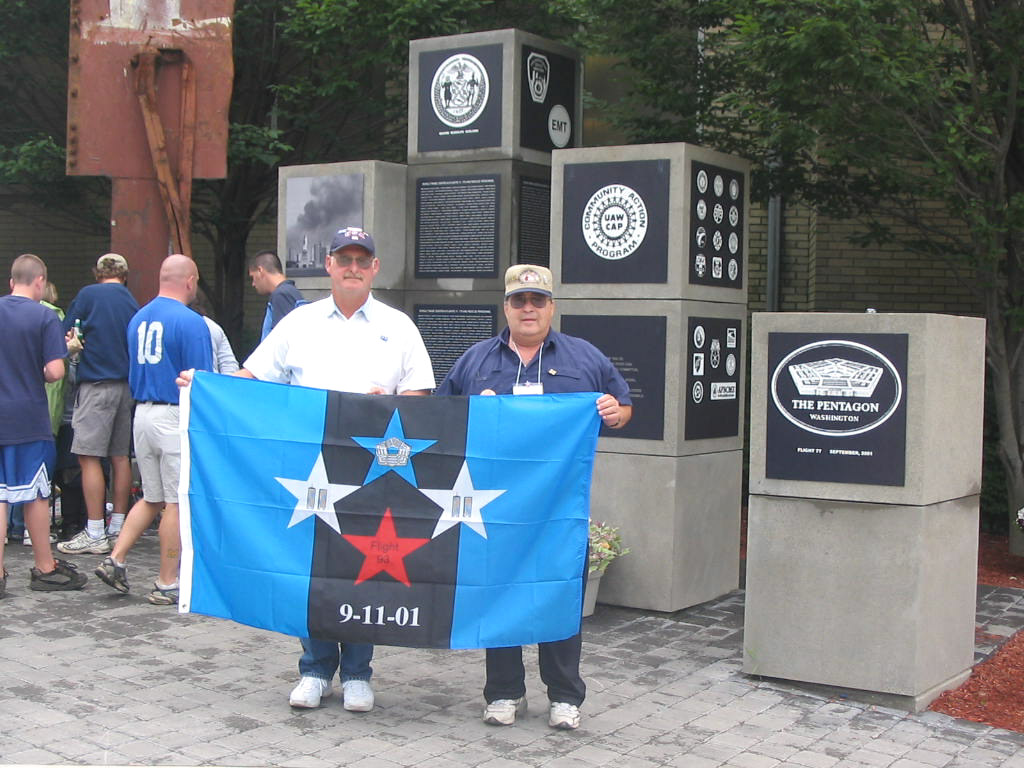 Steve Galvin (left) - Creator of Flag
Tony Nesci (right) - Director: Veterans & 9/11 Memorial
UAW-Daimler Chrysler Region 9
Special Thanks to Tony and his organization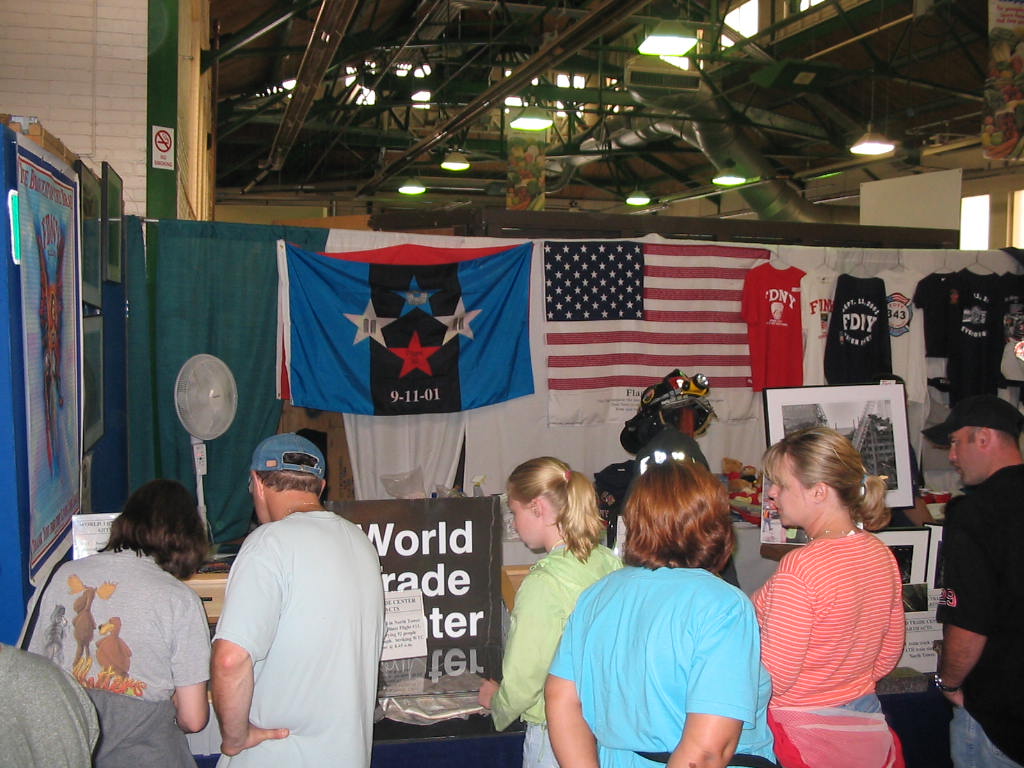 9/11 NRF being displayed at NYS Fair
"TRAC" Team - FDNY
(Trauma Response Assistance for Children)
Julie Franco - NY Liaison Public Relations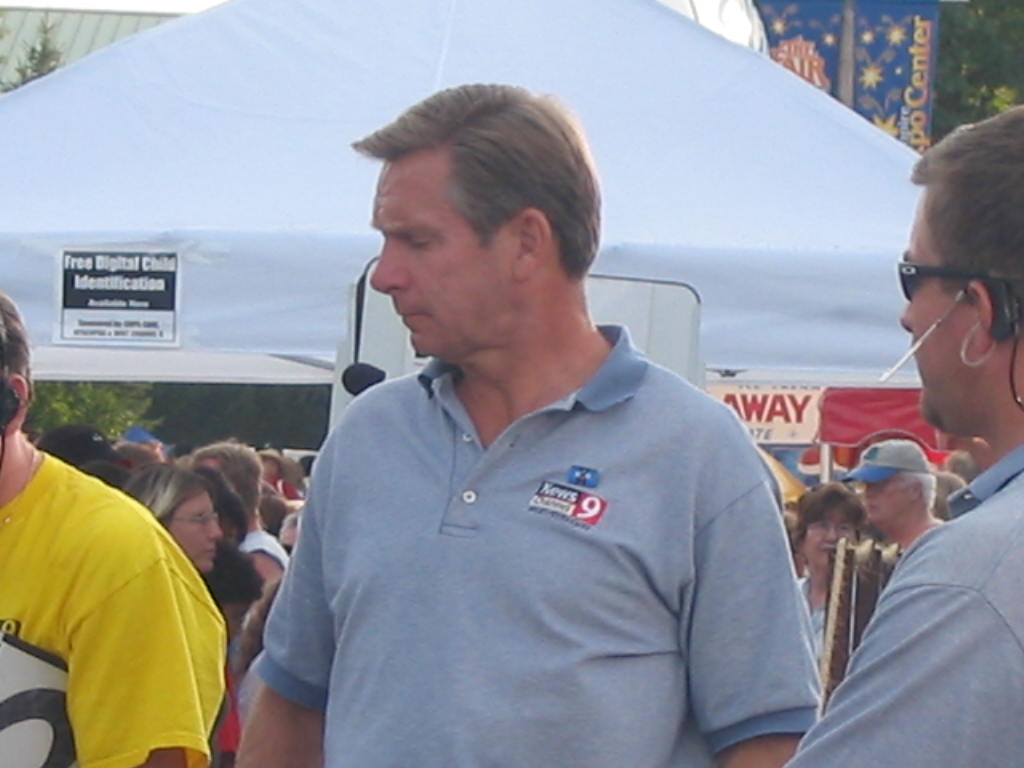 Doug Logan - News Channel 9 - WIXT - Syracuse, NY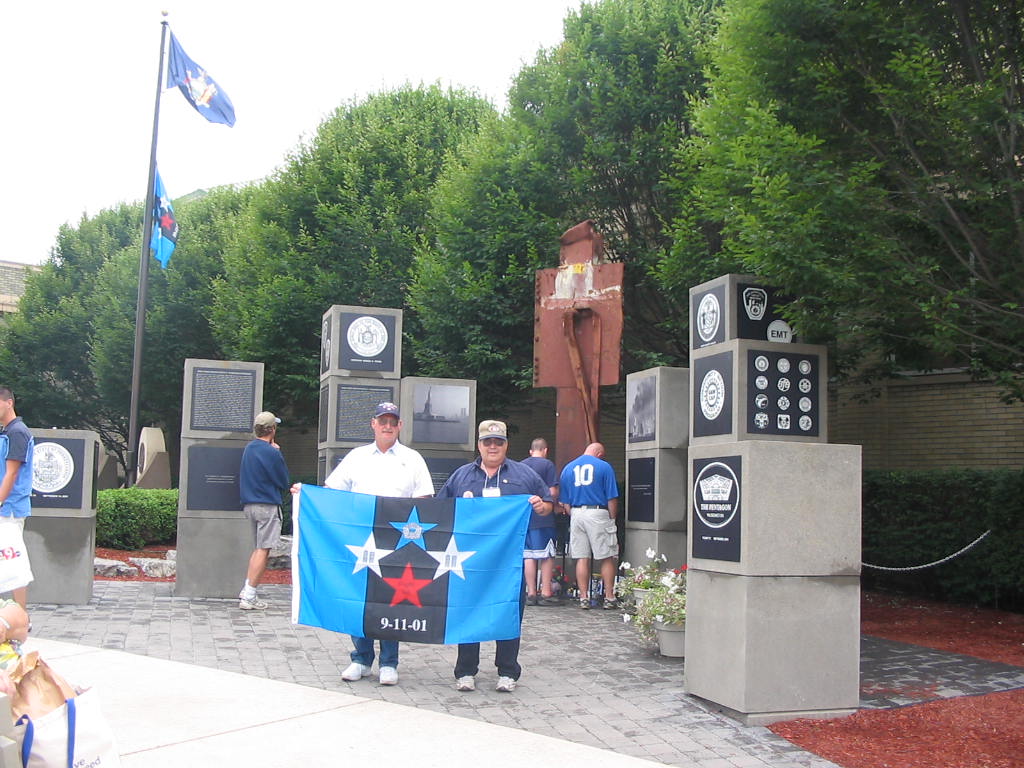 Steve Galvin (left) - Creator of Flag
Tony Nesci (right) - Director: Veterans & 9/11 Memorial
UAW-Daimler Chrysler Region 9
Special Thanks to Tony and his organization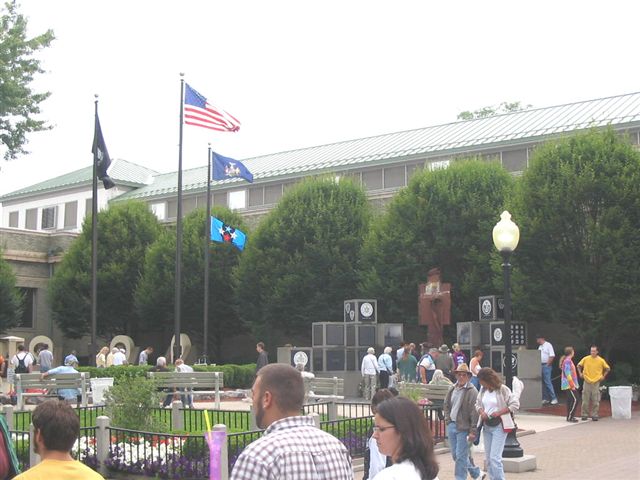 9/11 NRF at NYS Fairgrounds 'Veterans & 9/11 Memorial'
Flag raised on 8/28/03 on 'Veteran's & Firefighters Day'
at the Fair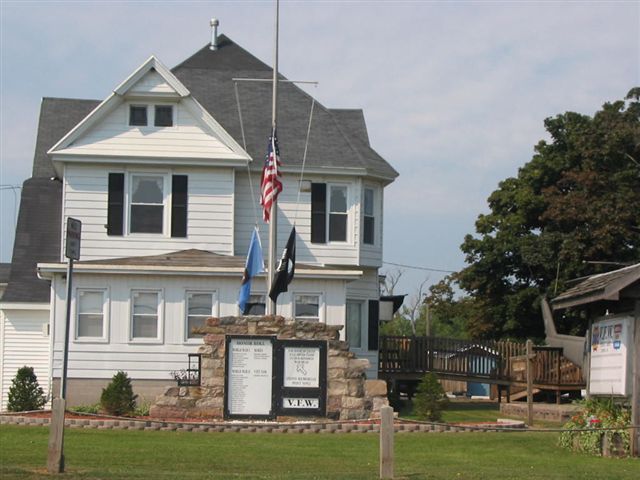 Lyons VFW - 9/11/03
Lyons, NY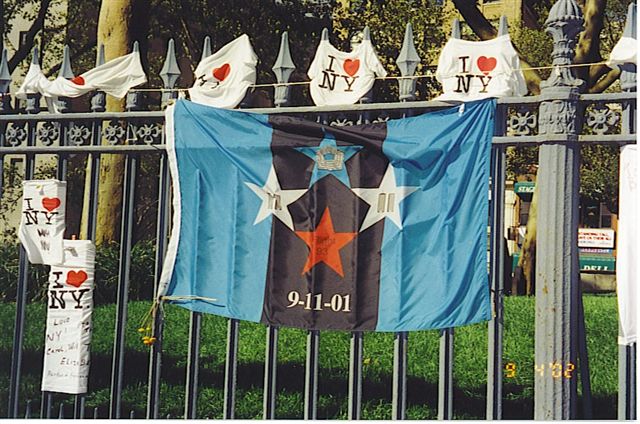 9/11 NRF being displayed on fence near Ground Zero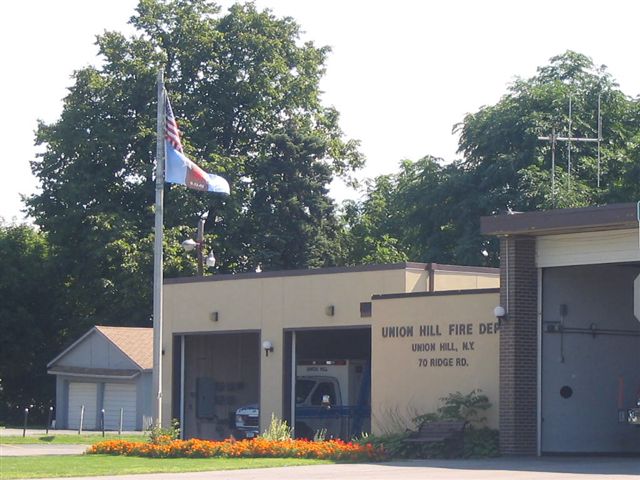 Union Hill Fire Department
Union Hill, NY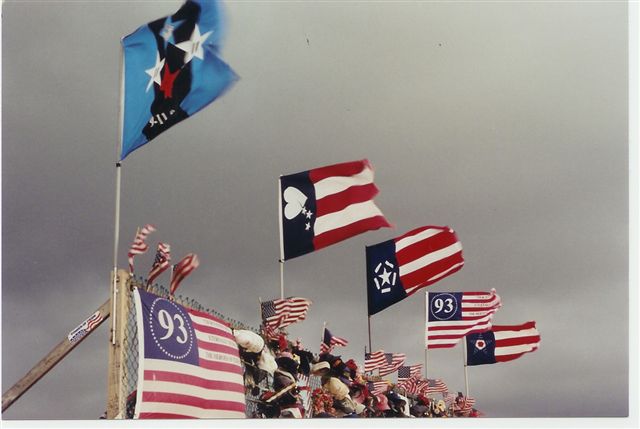 9/11 National Remembrance Flag being displayed at
Shanksville, PA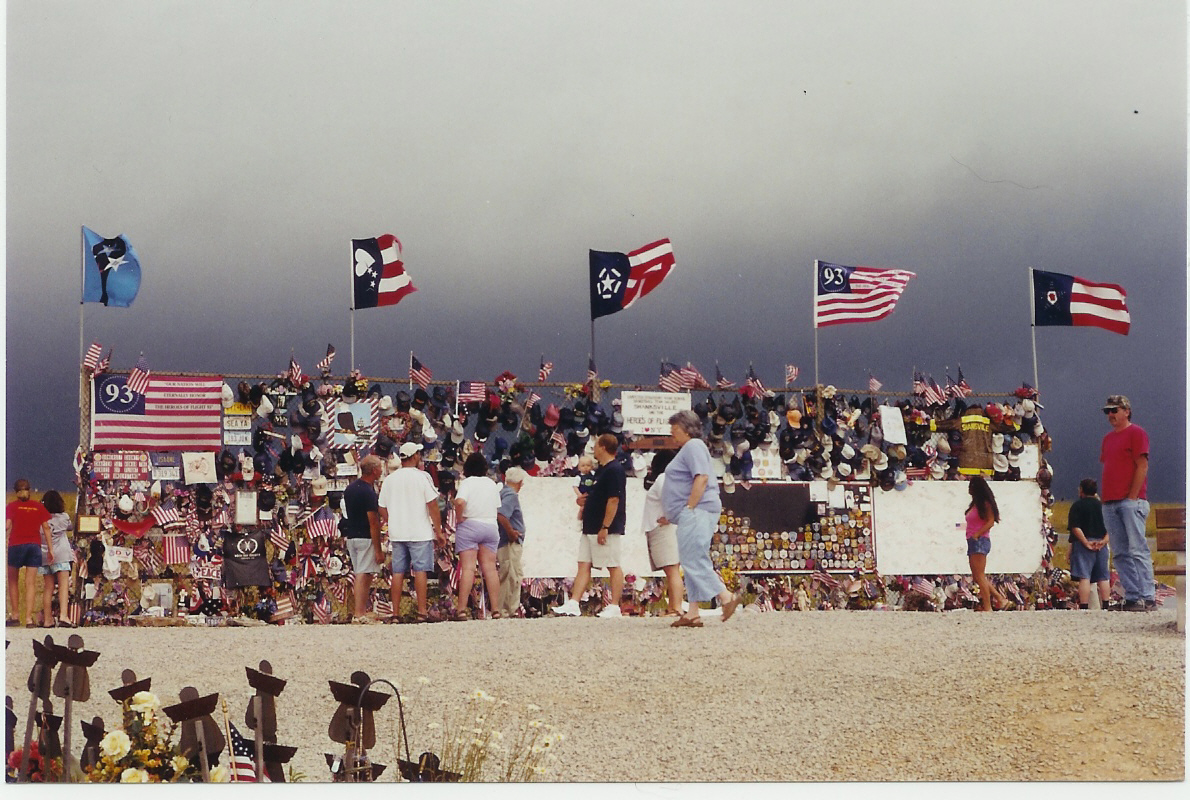 9/11 National Remembrance Flag being displayed at
Shanksville, PA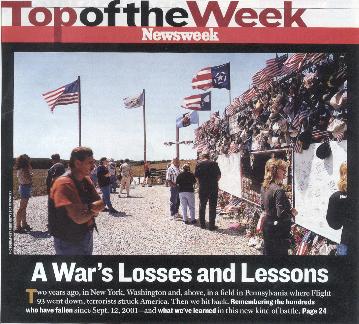 Photograph appearing in September 15, 2003 issue of
Newsweek Magazine showing the 9/11 NRF atop the
Flight 93 Temporary Memorial in Shanksville, PA
back to top
---
2004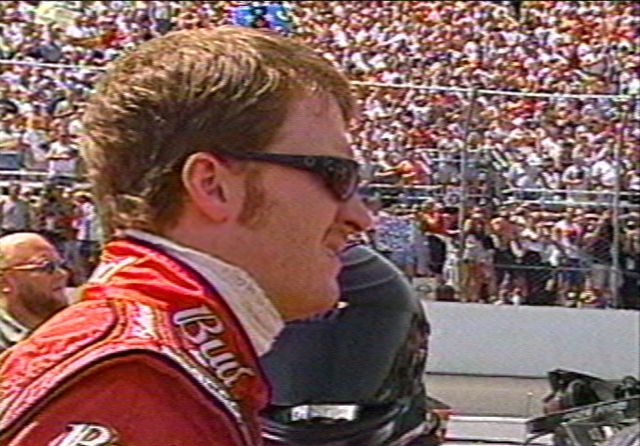 9/11 NRF captured in the crowd above Dale Earnhardt Jrs' head
at NASCAR Race - 2004 - Loudon, New Hampshire
International Speedway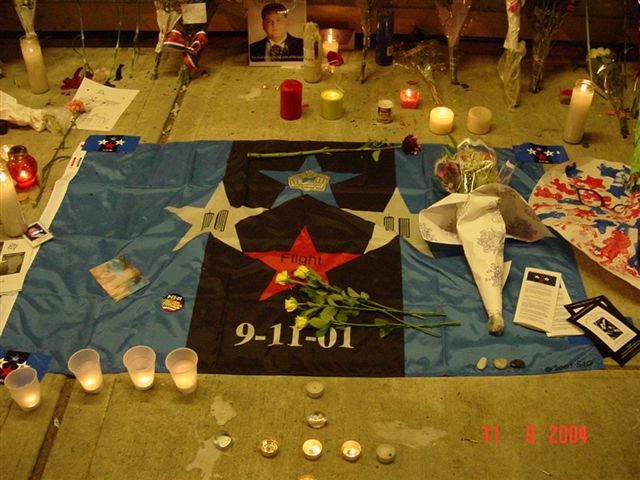 9/11 NRF displayed near Ground Zero in NYC - 9/11/04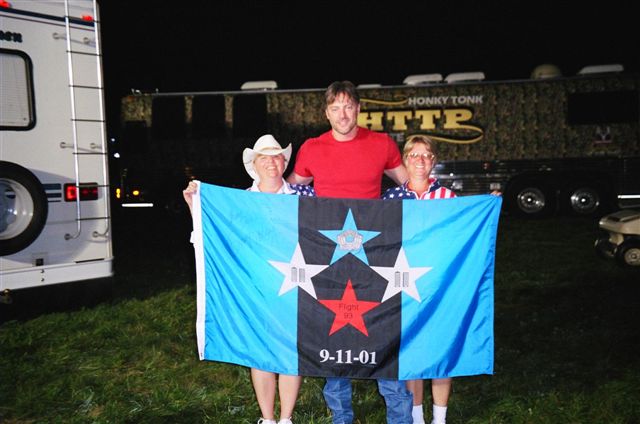 L-R: Anita Murrell from Sodus, Country singer Darryl Worley,
Dee Batz from Ontario. Balloon Festival in Dansville, NY
September 4, 2004. Darryl
sings the song 'Have You Forgotten'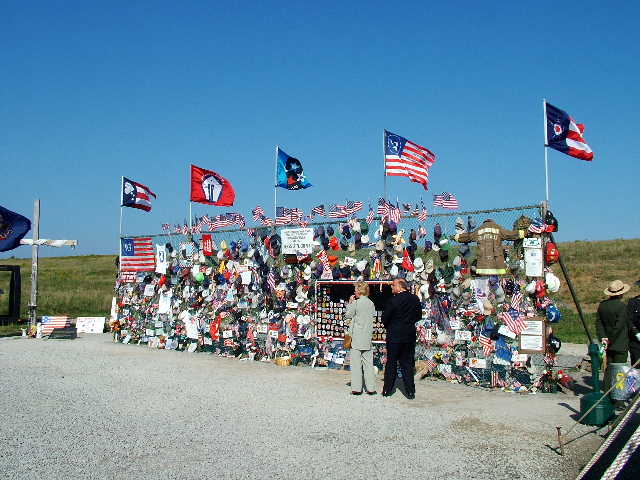 9/11 NRF displayed at Flight 93 Temporary Memorial
Shanksville, PA
Photo courtesy of Chuck Wagner - Flight 93 Ambassador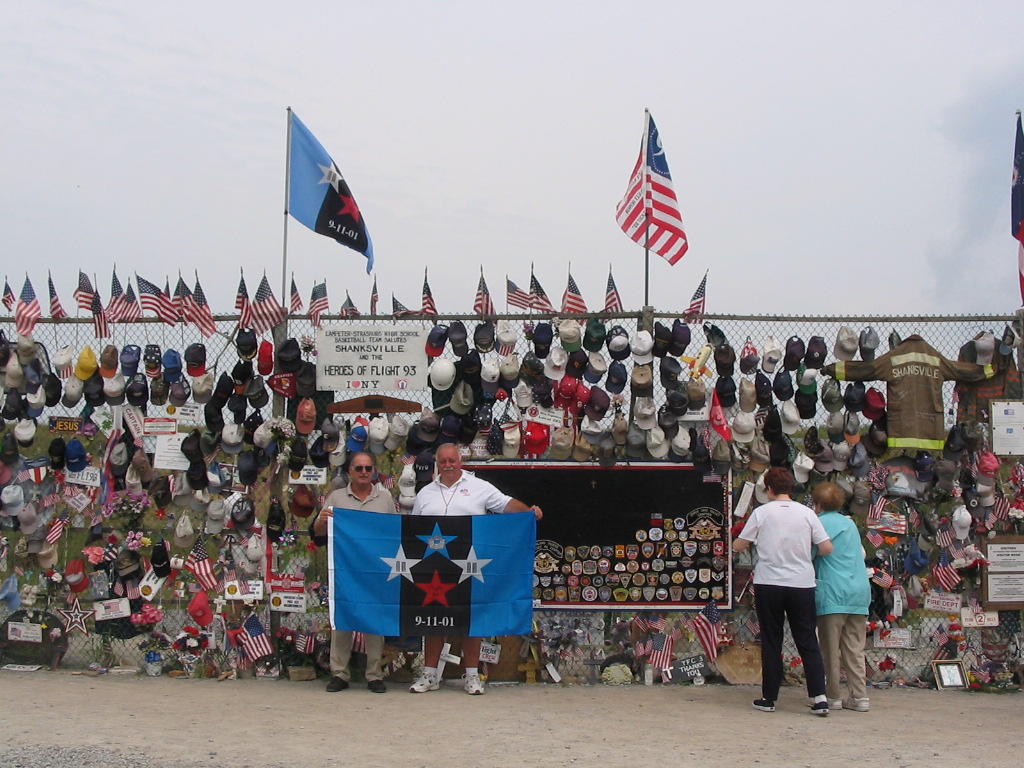 First trip to Flight 93 Temporary Memorial
L-R: Steve Galvin, Chuck Wagner
Chuck is one of the Flight 93 Ambassadors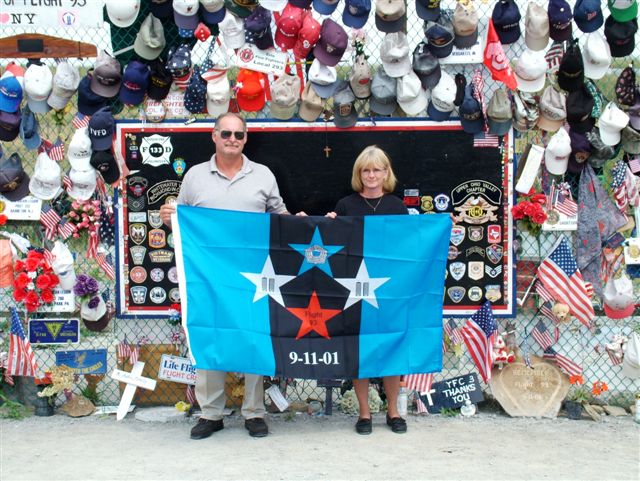 First trip to Flight 93 Temporary Memorial
Steve & Joanne Galvin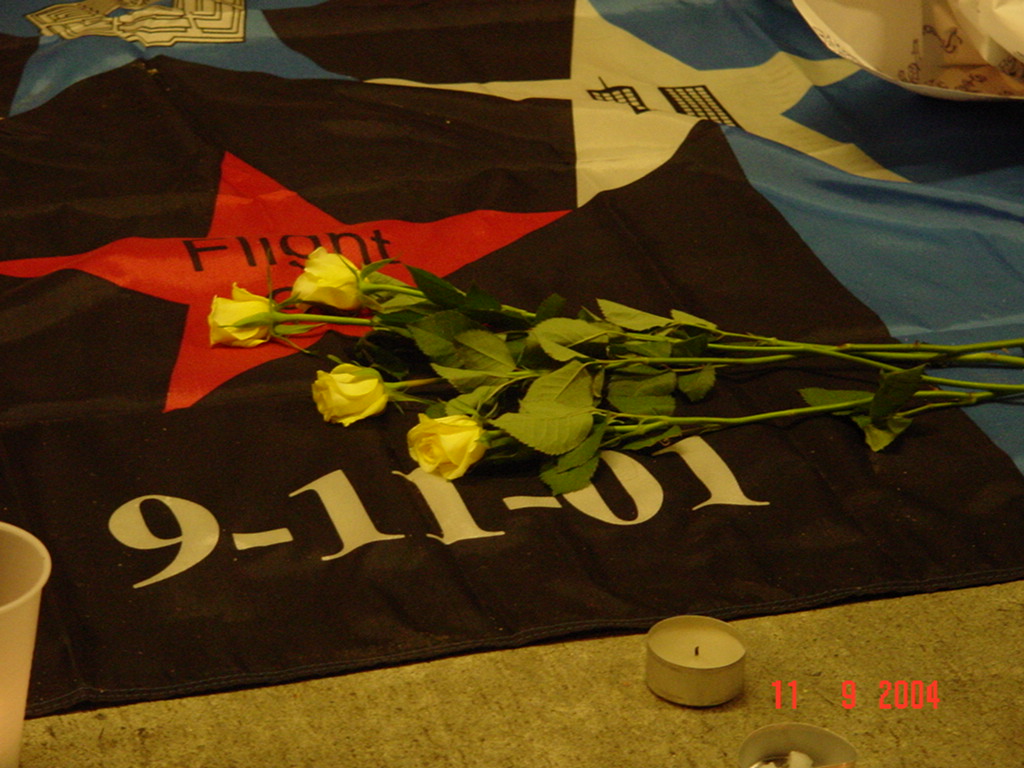 9/11 NRF displayed near Ground Zero in NYC - 9/11/04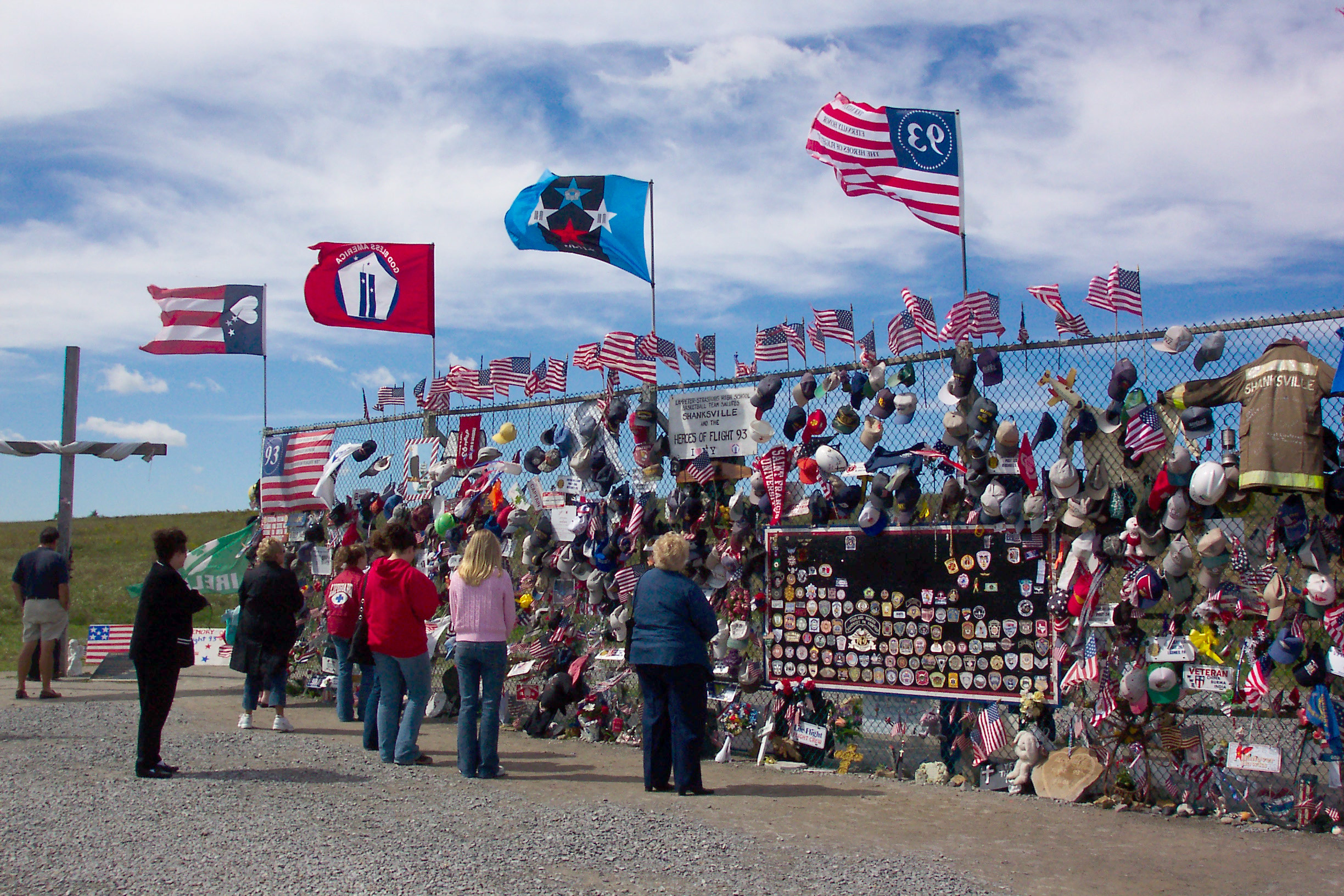 9/11 NRF at Flight 93 Temporary Memorial
photo courtesy of Tony Mussari
back to top
---
2005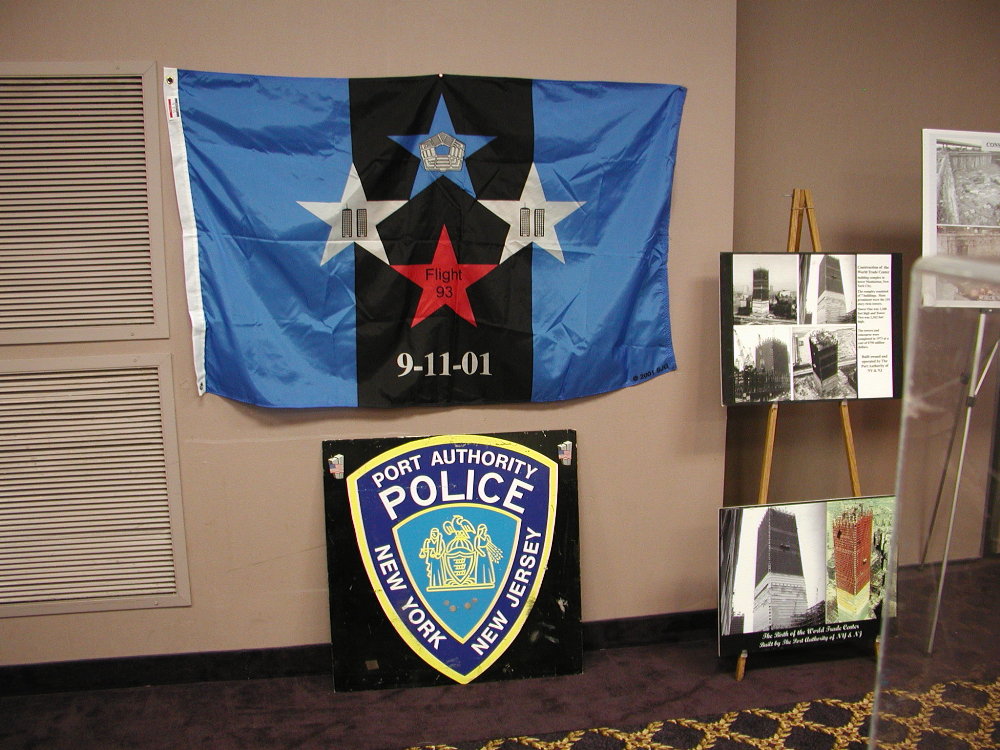 9/11 Flag being displayed in Virginia Beach,. VA.
August 2005. Flag is being displayed in the Travelling
Memorial by the NY-NJ Port Authority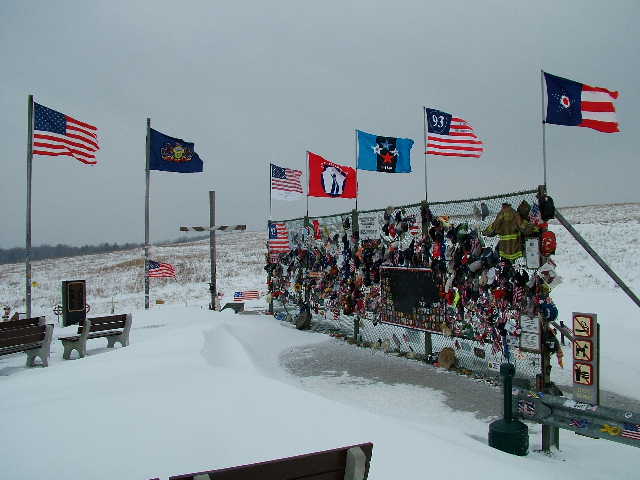 9/11 Flag being displayed at Flight 93 Temporary
Memorial Photo courtesy of Chuck Wagner - Flight 93 Ambassador
back to top
---
2006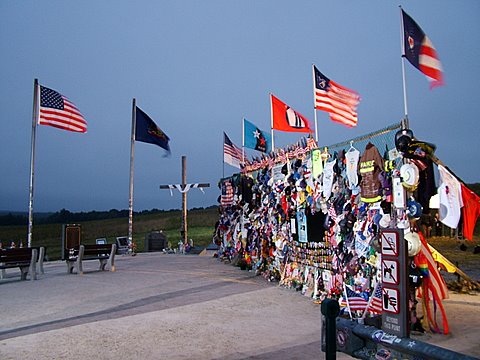 Morning of 9/11/06 - Temporary Memorial
Shanksville, PA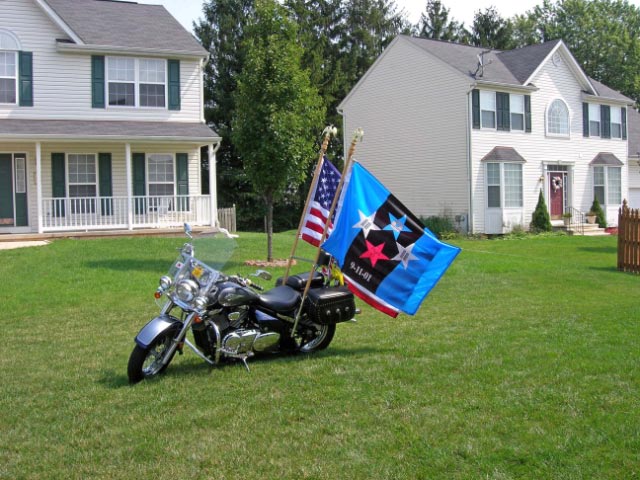 9/11 NRF
Photo courtesy of Mark R. Johnson
Hampstead, MD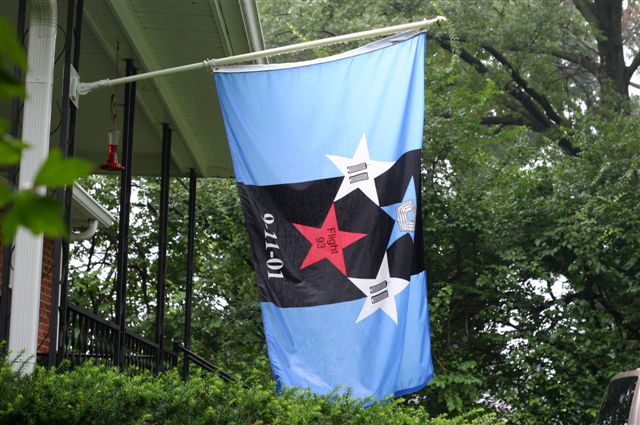 9/11 NRF flag displayed at the home of Ron Moser
Louisville, KY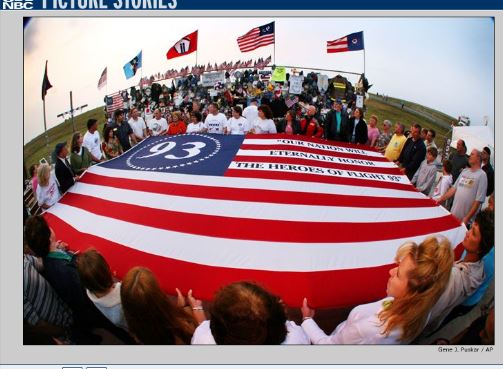 9/11 Ceremony - Flight 93 Temporary Memorial
back to top
---
2007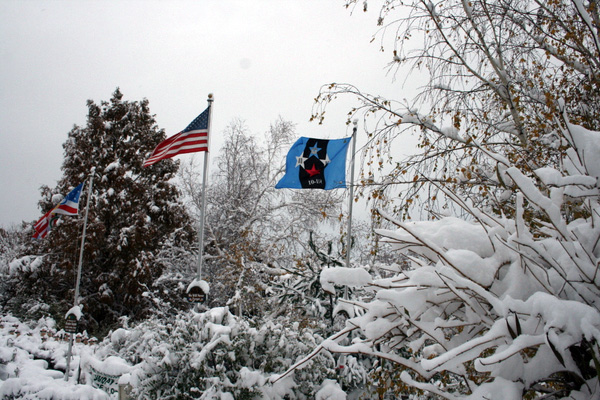 9/11 Flag at Windsor Park - Dallas, PA
Photo courtesy of Dr. Anthony Mussari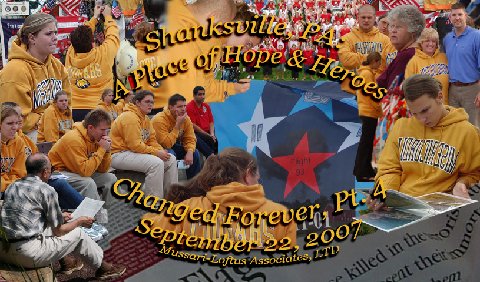 Filming of Face of America Project
Yearly Gathering at Flight 93 Temporary Memorial
Photo courtesy of Dr. Anthony Mussari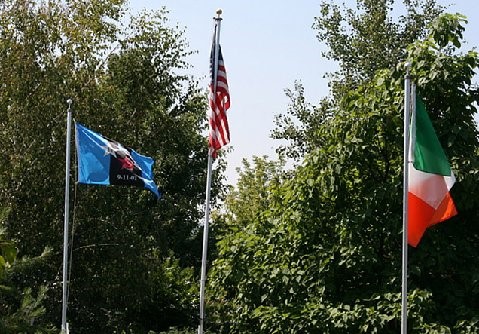 9/11 Flag at Windsor Park - Dallas, PA
Photo courtesy of Dr. Anthony Mussari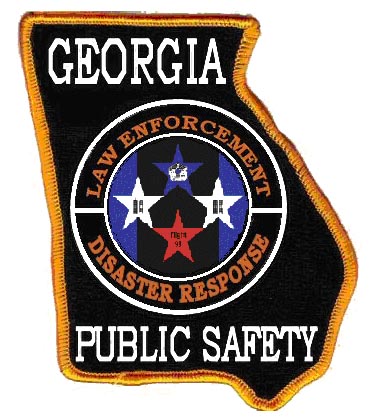 9/11 NRF design incorporated into patch for
Georgia Law Enforcement Disaster Response.
Design will also be used on all police cars and their
command center.
Photo courtesy of Chief Brandon T. Webb -
Georgia Public Safety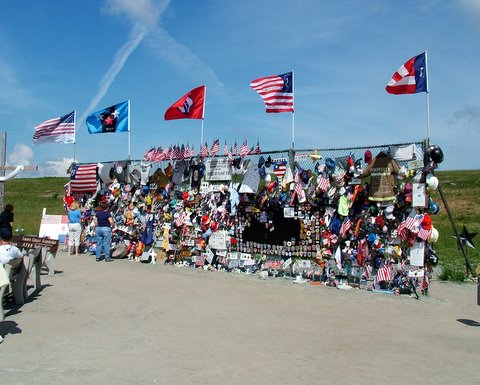 9/11 NRF at Temporary Memorial
Shanksville, PA - 6/30/07
back to top
---
2008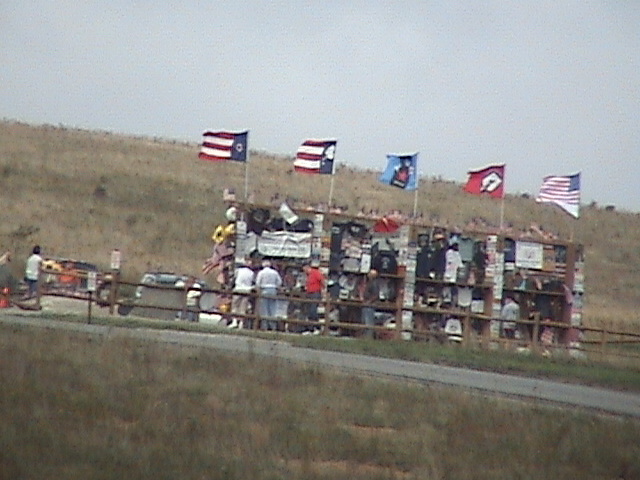 Visit to Flight 93 Temporary Memorial - Sept. 2008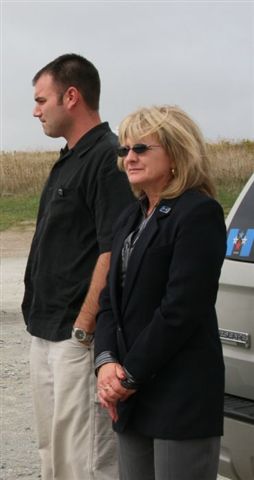 Visit to Flight 93 Temporary Memorial - Sept. 2008
Dan Fitzmaurice & Joanne Galvin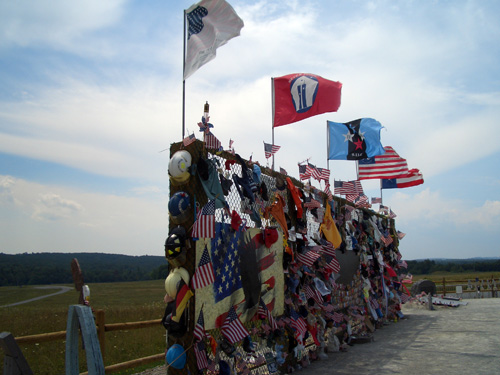 Visit to Flight 93 Temporary Memorial - Sept. 2008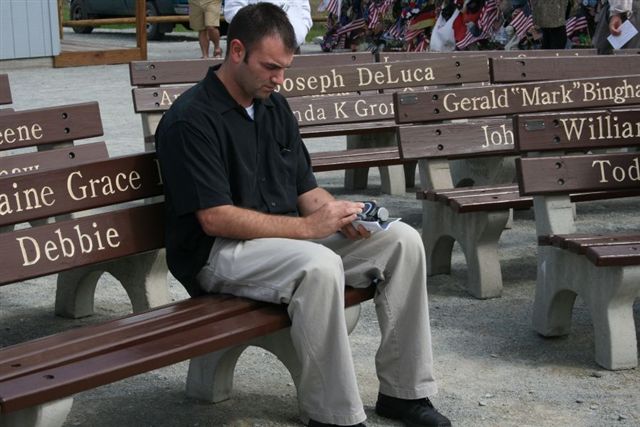 Visit to Flight 93 Temporary Memorial - Sept. 2008
Dan Fitzmaurice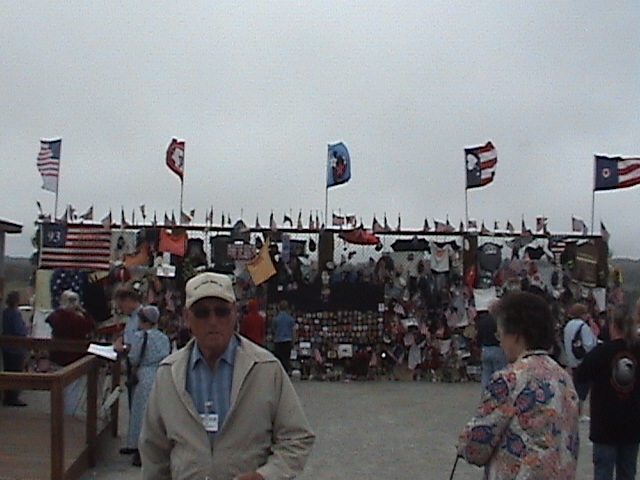 Visit to Flight 93 Temporary Memorial - Sept. 2008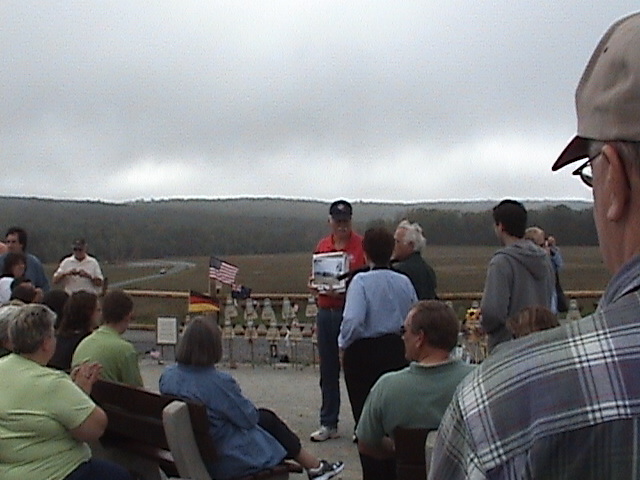 Visit to Flight 93 Temporary Memorial - Sept. 2008
Presentation to visitors by Flight 93 Ambassador
Chuck Wagner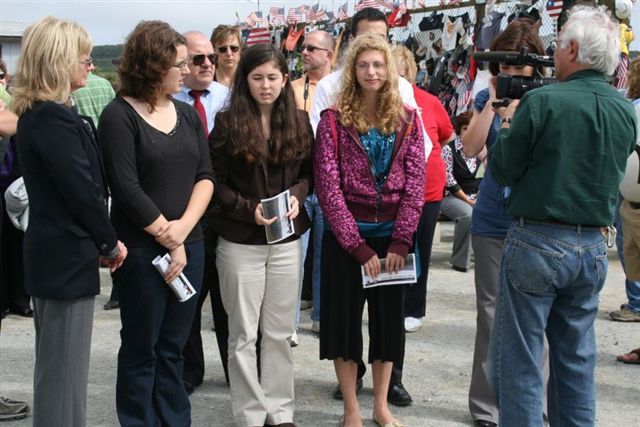 Visit to Flight 93 Temporary Memorial - Sept. 2008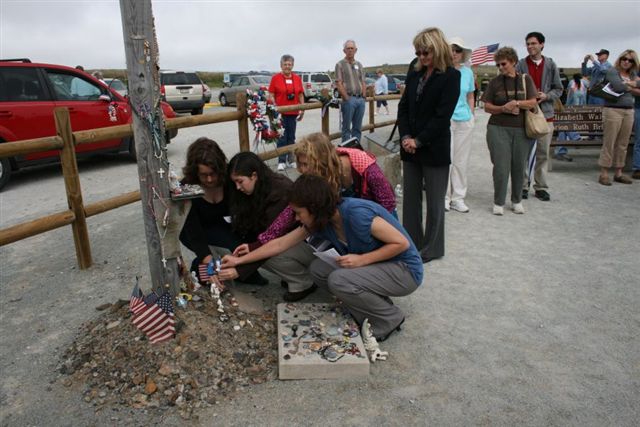 Visit to Flight 93 Temporary Memorial - Sept. 2008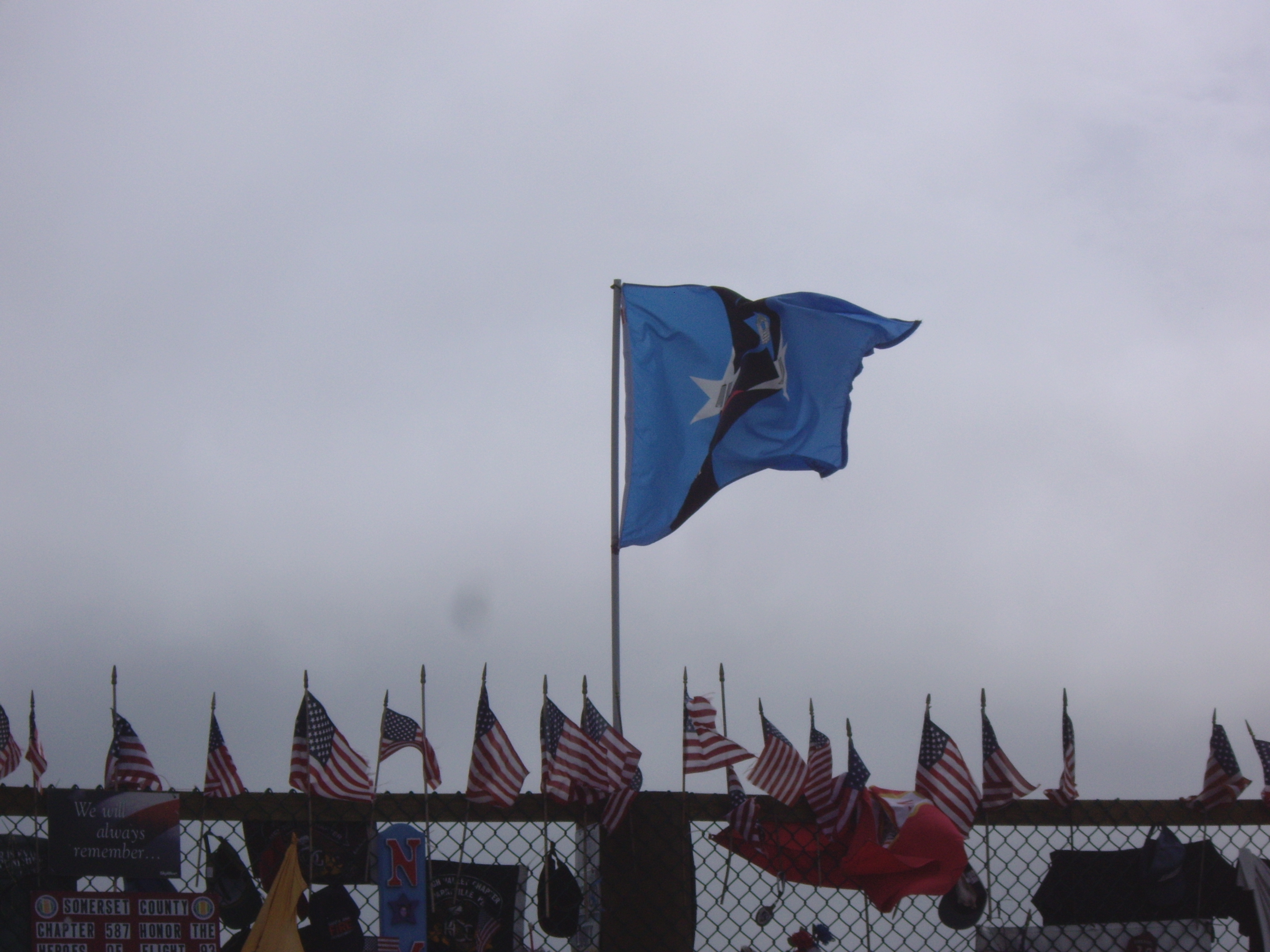 Visit to Flight 93 Temporary Memorial - Sept. 2008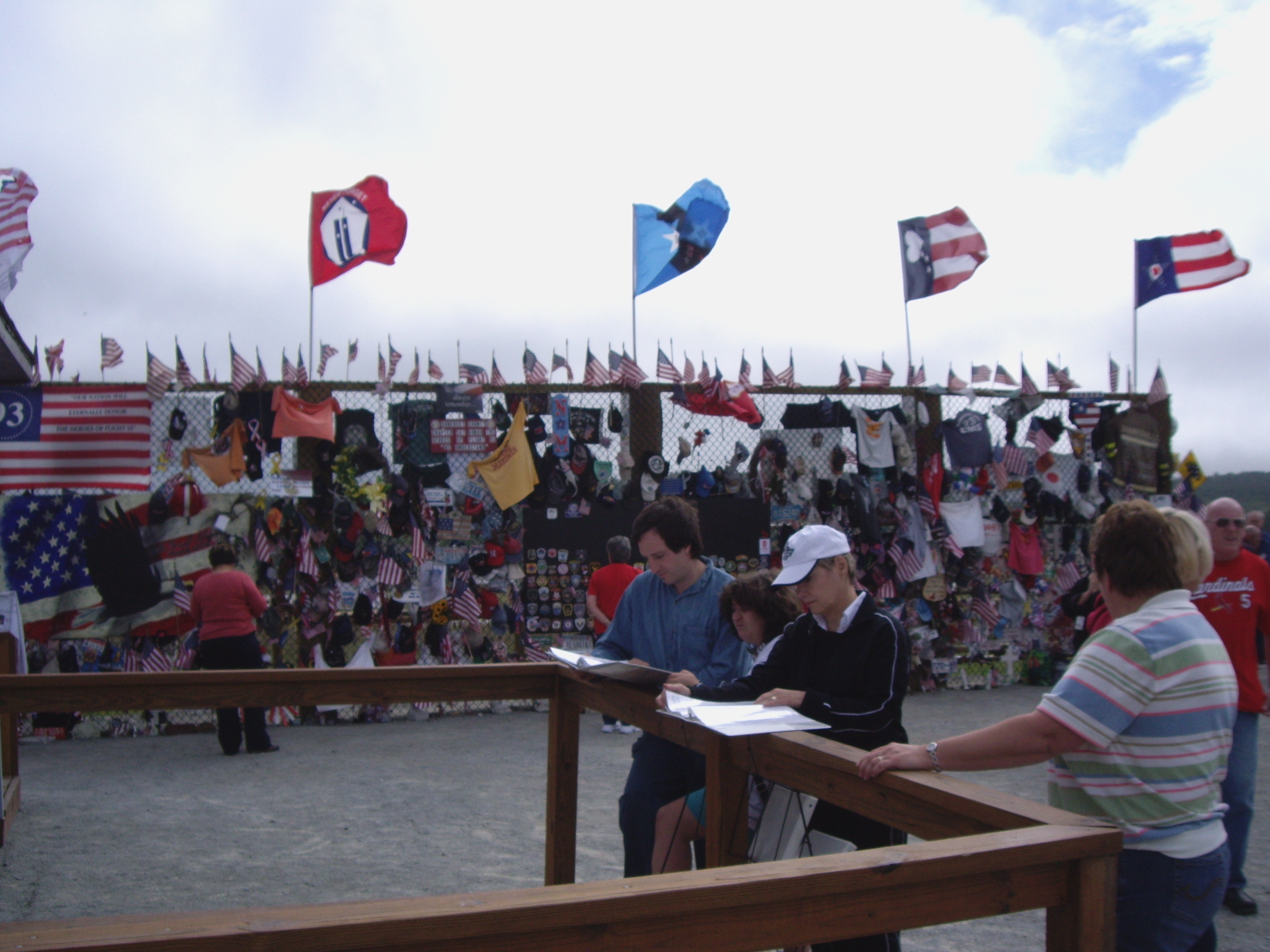 Visit to Flight 93 Temporary Memorial - Sept. 2008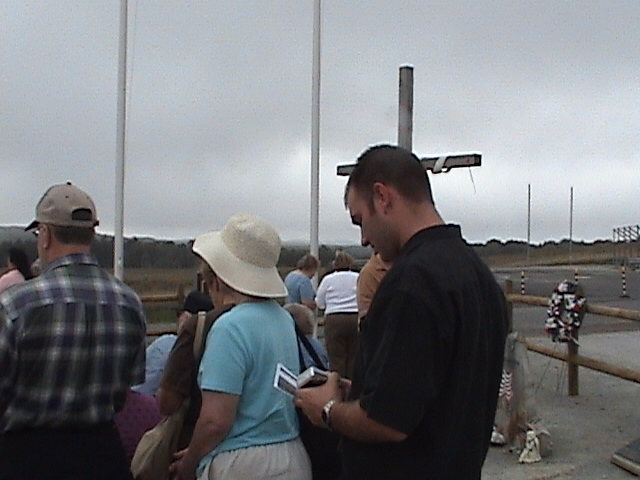 Visit to Flight 93 Temporary Memorial - Sept. 2008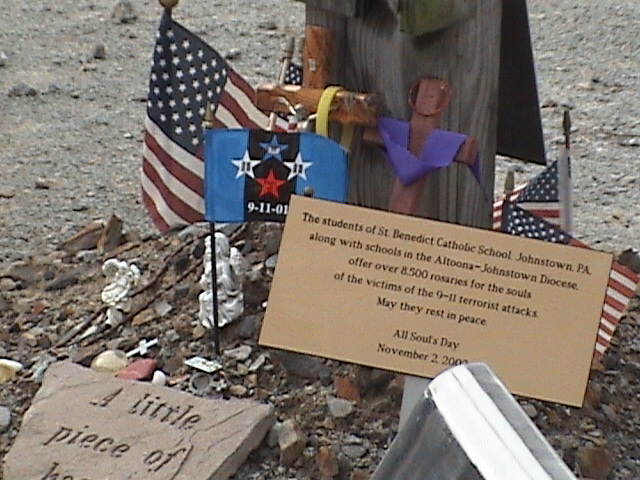 Visit to Flight 93 Temporary Memorial - Sept. 2008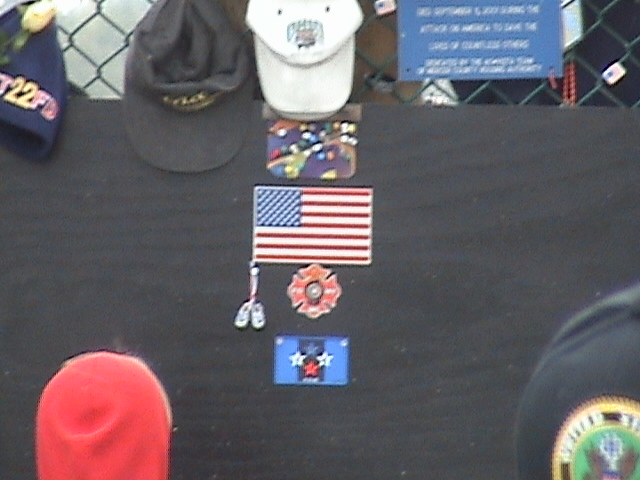 Visit to Flight 93 Temporary Memorial - Sept. 2008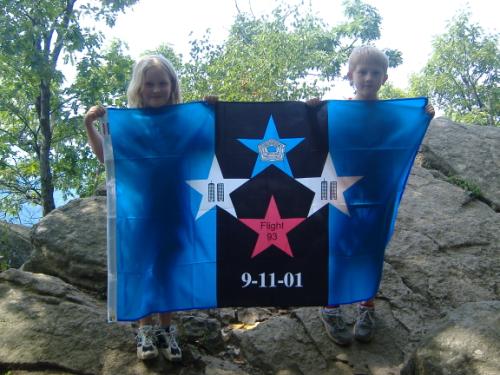 Indya & Ethan Page - Bedford, VA
Photo courtesy of Pete Page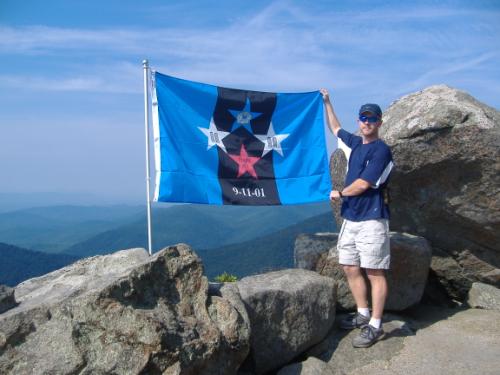 Sharp Top @ the Peaks of Otter Ridge, Bedford, VA
Pete Page
Photo courtesy of Pete Page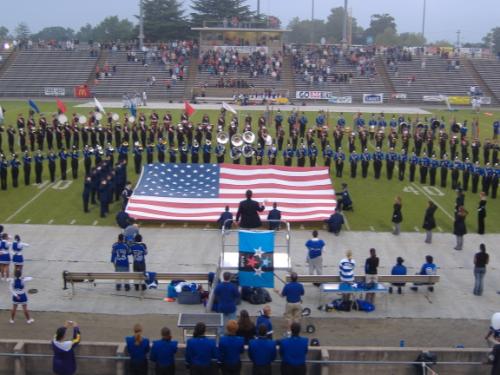 9/11 NRF being displayed during 9/11/08 football
game - half time - Lynchburg, VA
Photo courtesy of Pete Page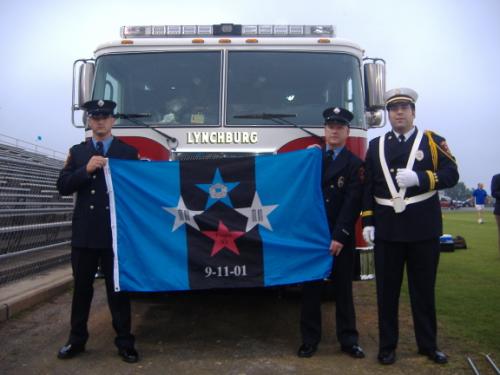 9/11 NRF - Lynchburg Fire Department
Lynchburg, VA
Photo courtesy of Pete Page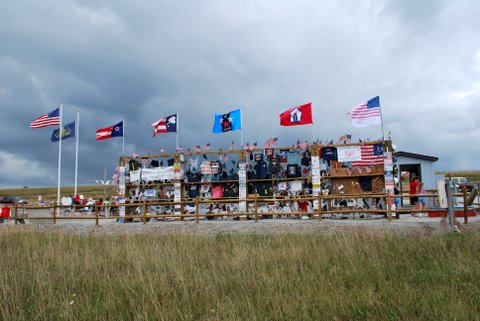 Shanksville Temporary Memorial - Sept. 2008
Photo courtesy of Chuck Wagner - Flight 93
Ambassador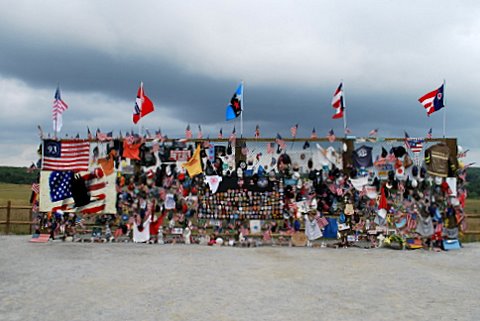 Shanksville Temporary Memorial - Sept. 2008
Photo courtesy of Chuck Wagner - Flight 93
Ambassador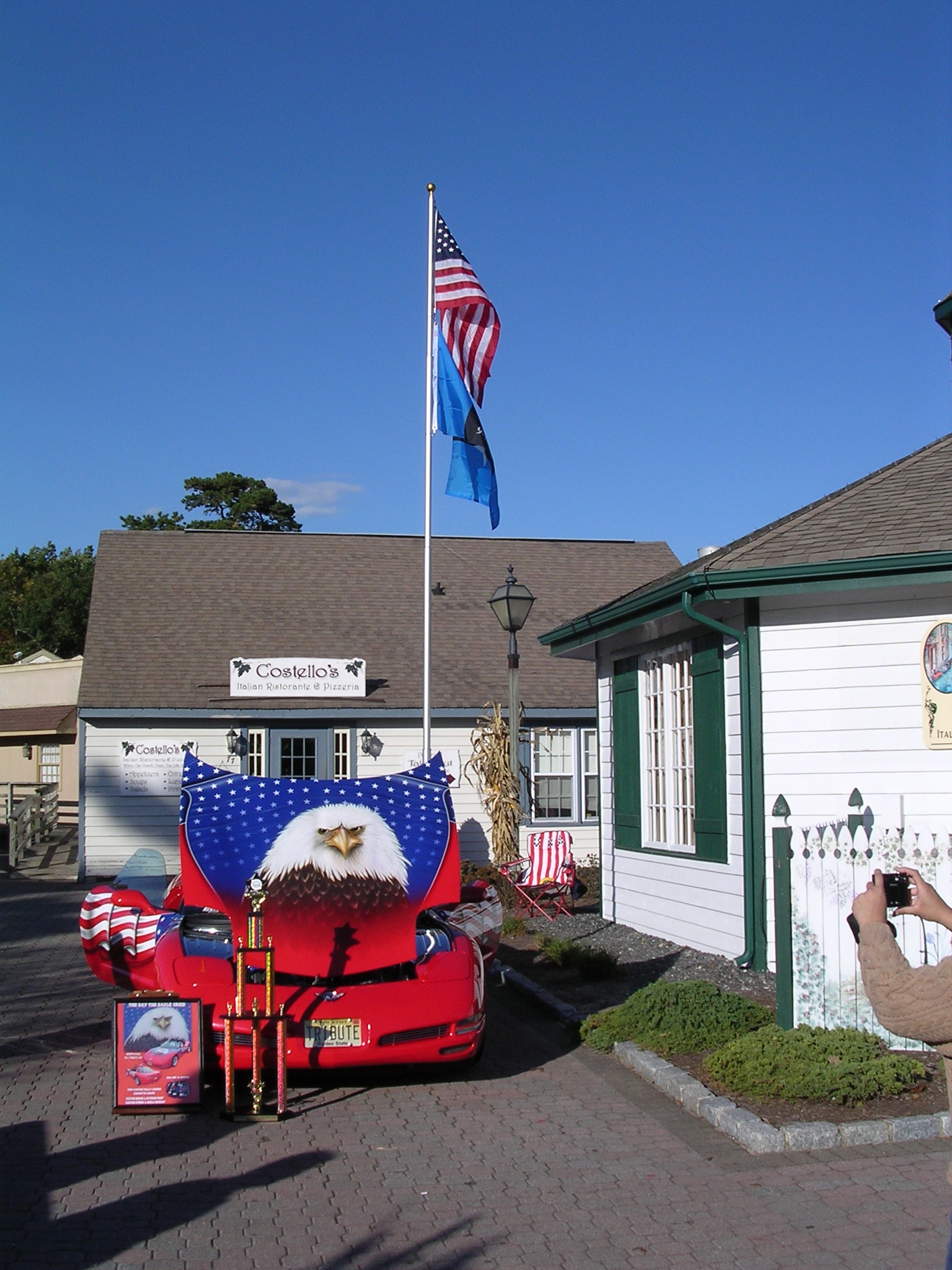 Photo courtesy of Joseph Sykes - Vineland, NJ
back to top
---
2009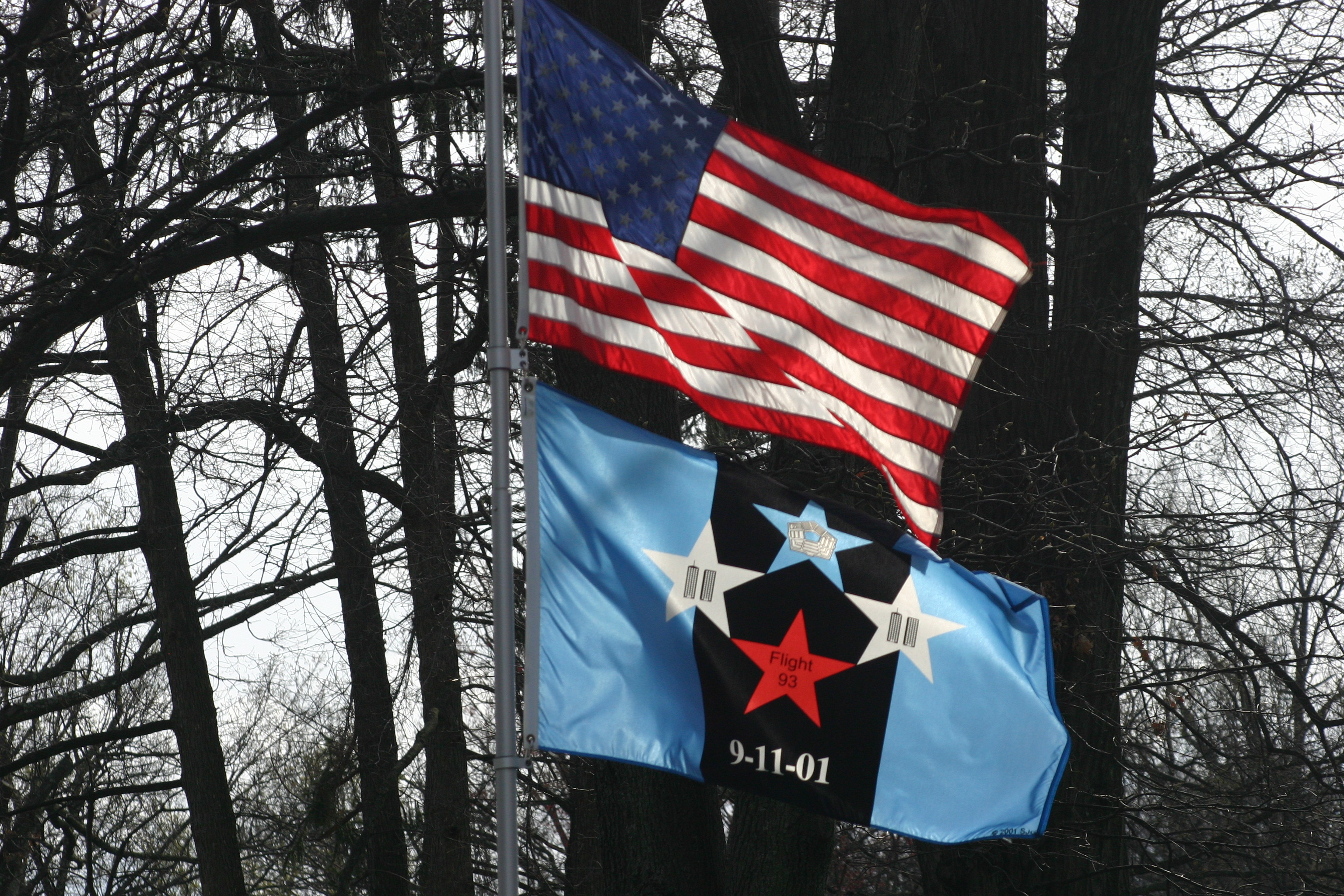 9/11 NRF at his home
Photo courtesy of Ron Moser

Visit to Shanksville Temporary Memorial - Sept. 2009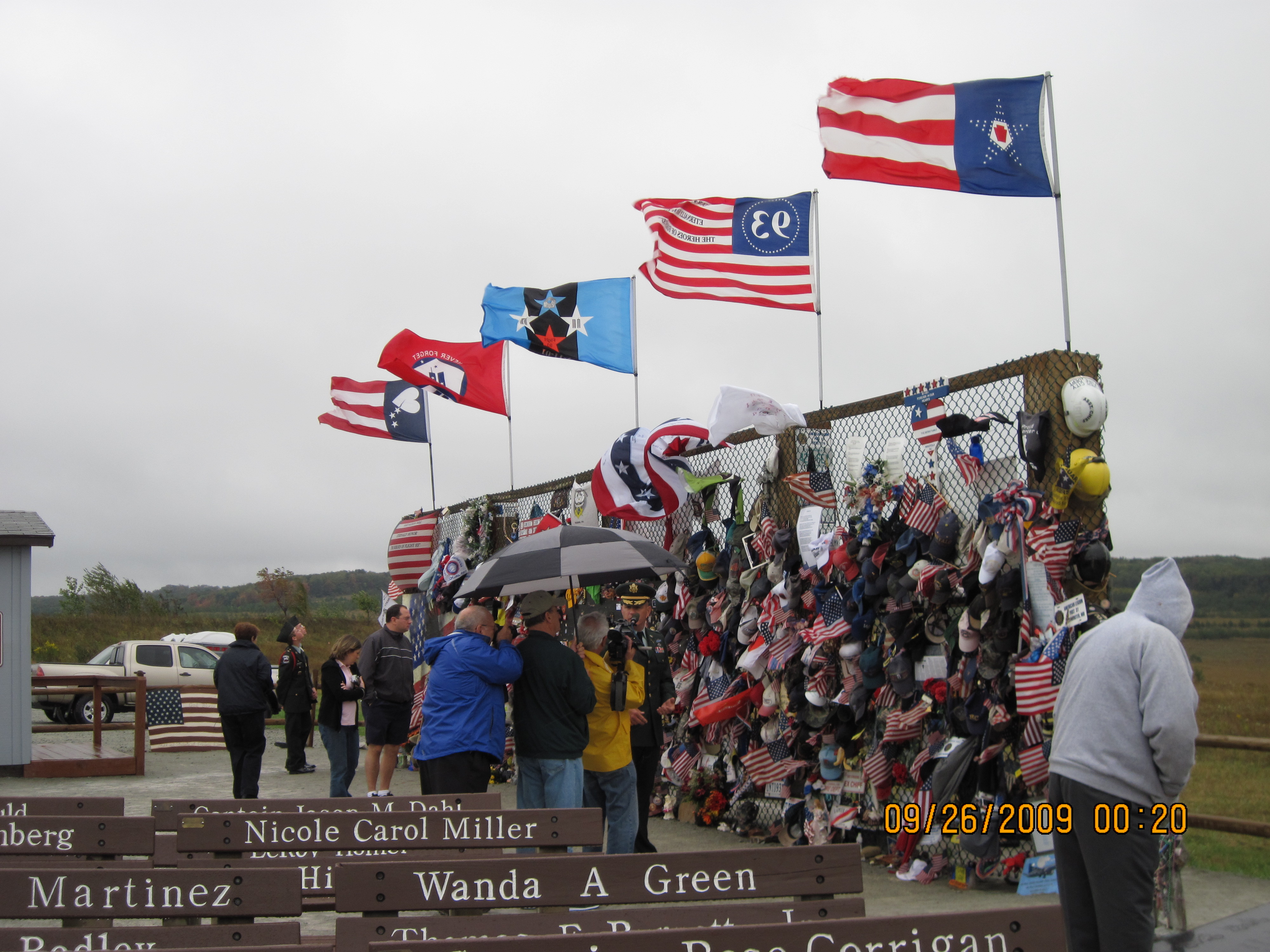 Visit to Shanksville Temporary Memorial - Sept. 2009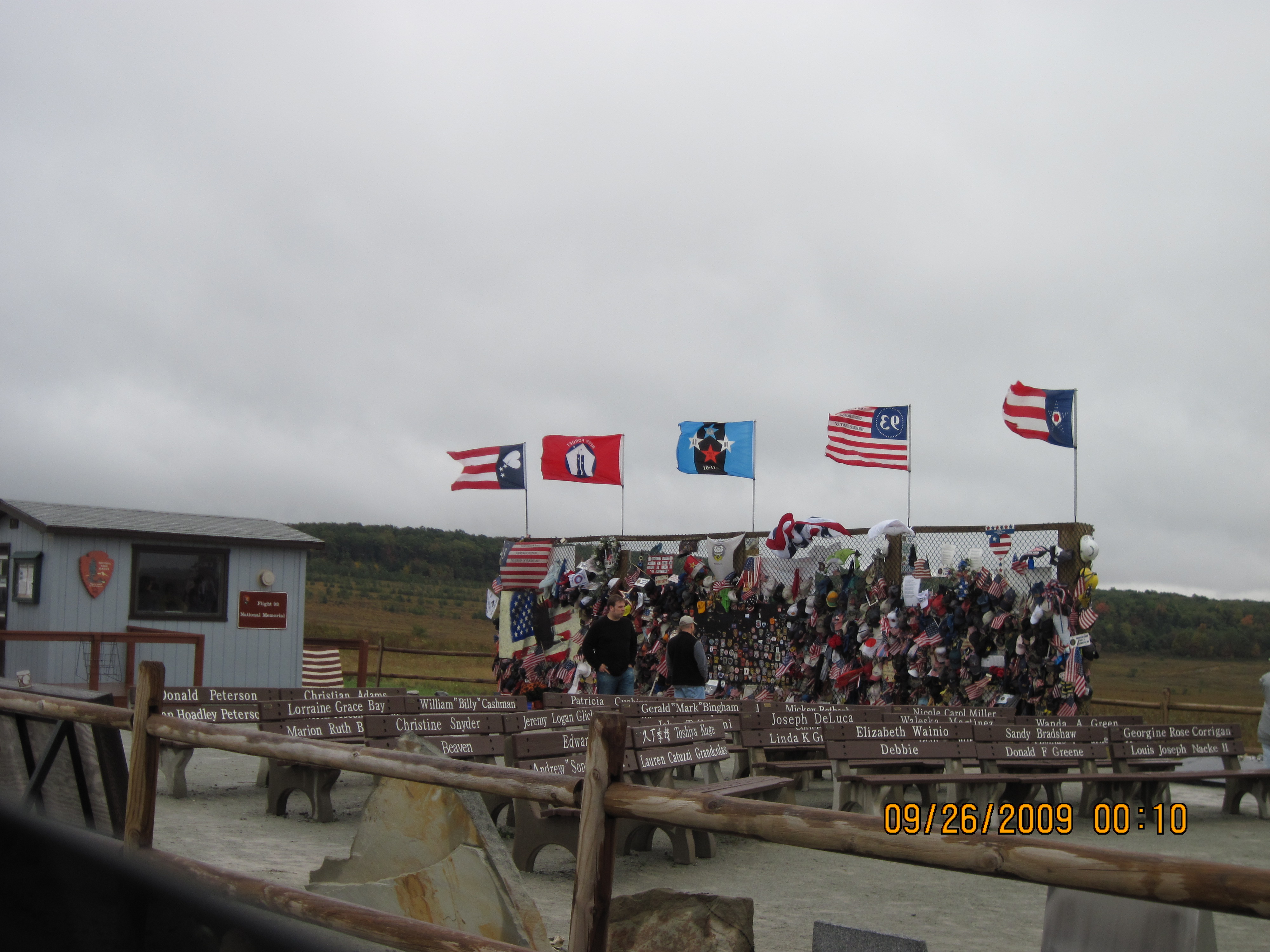 Visit to Shanksville Temporary Memorial - Sept. 2009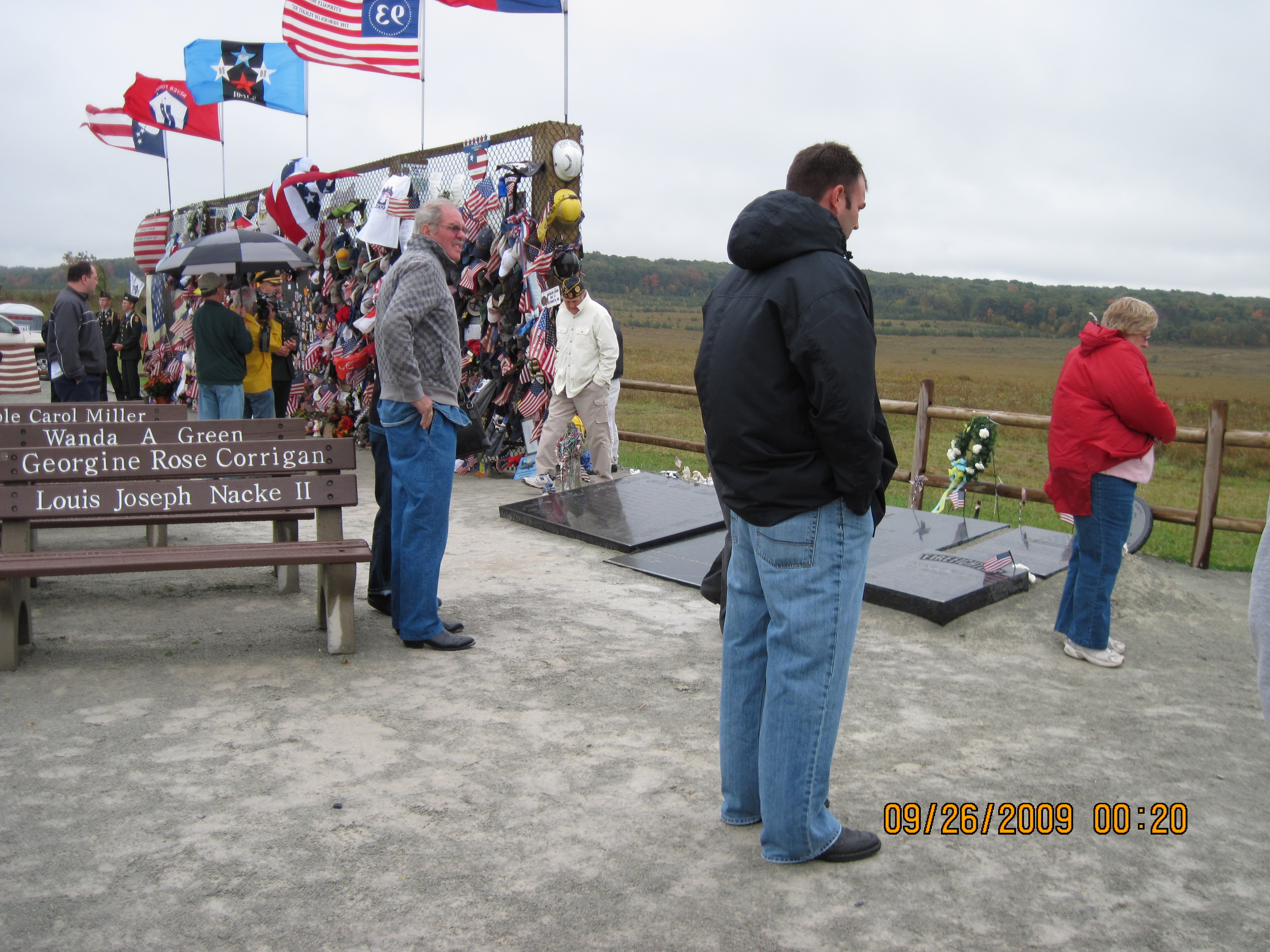 Visit to Shanksville Temporary Memorial - Sept. 2009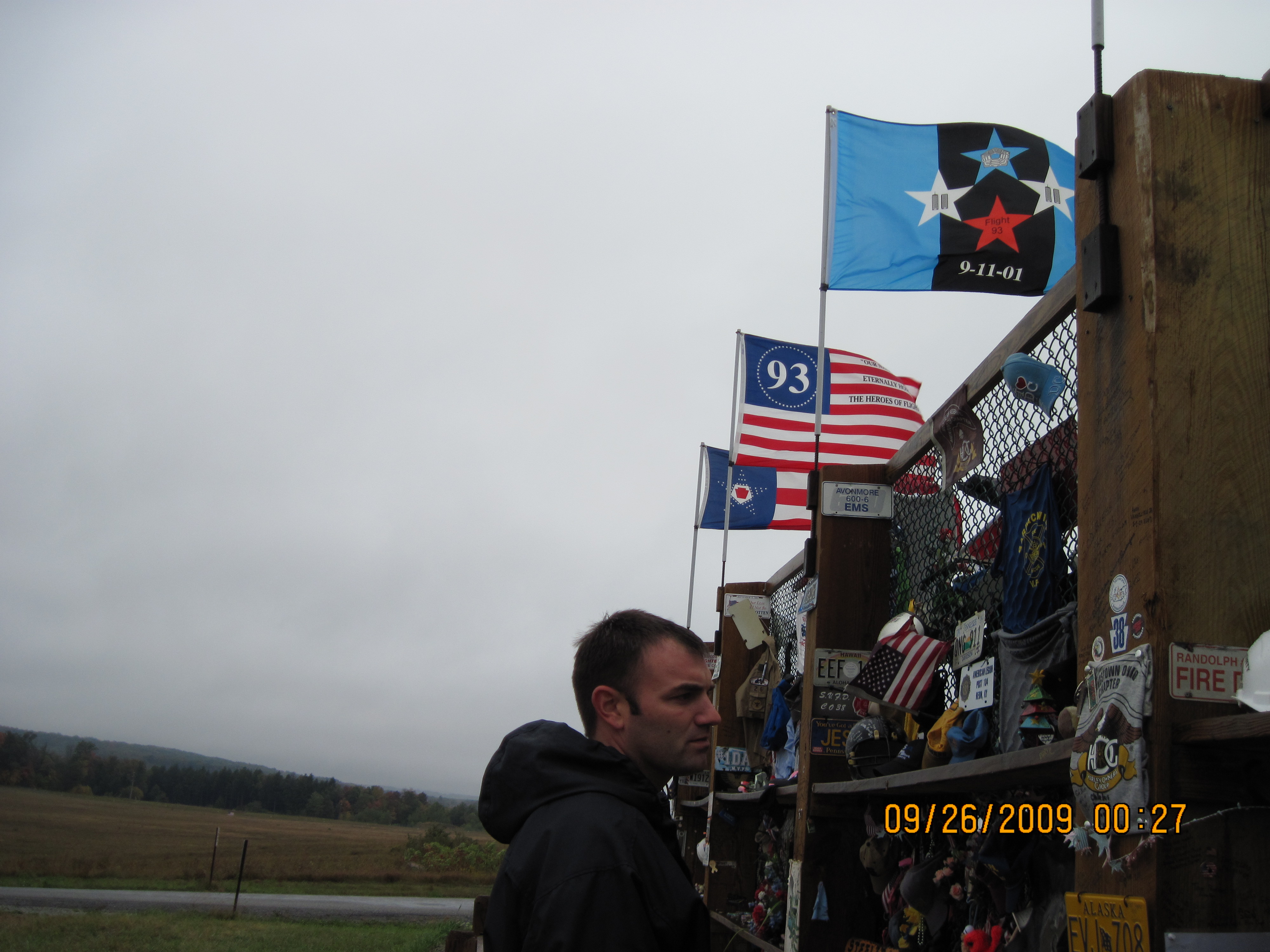 Visit to Shanksville Temporary Memorial - Sept. 2009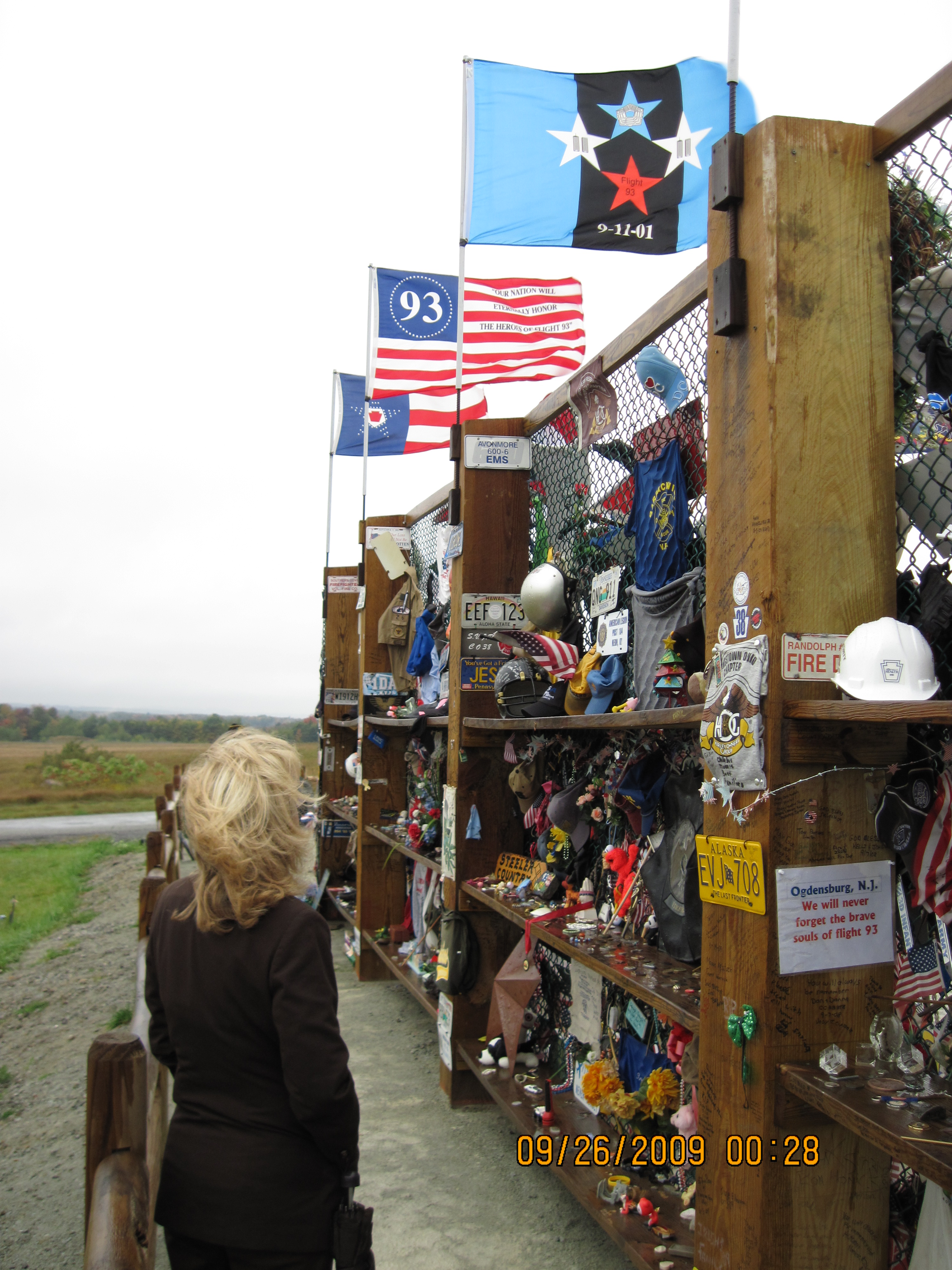 Visit to Shanksville Temporary Memorial - Sept. 2009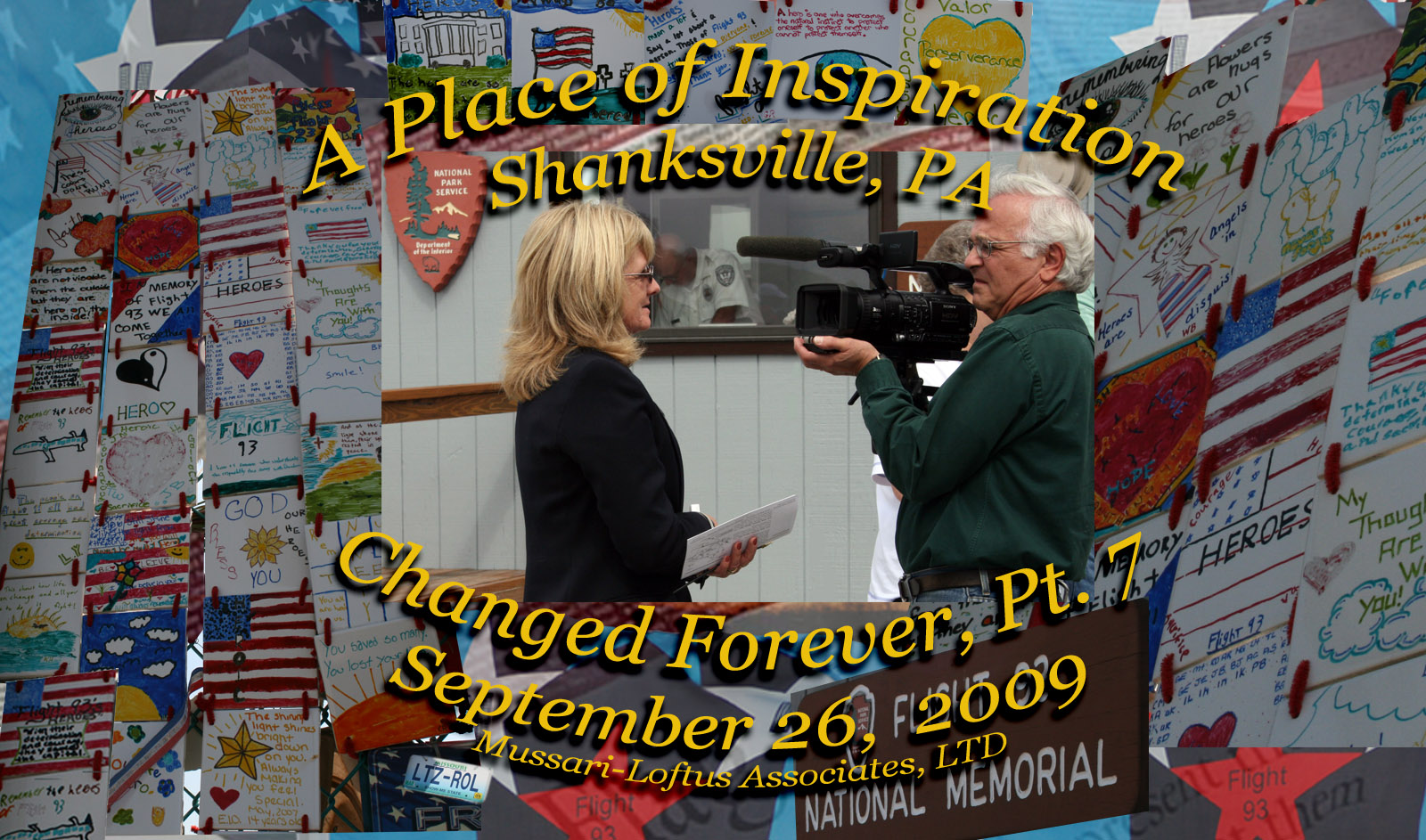 Filming of Face of America Project - September 2009
Flight 93 Temporary Memorial - Shanksville, PA
Photo courtesy of Dr. Anthony Mussari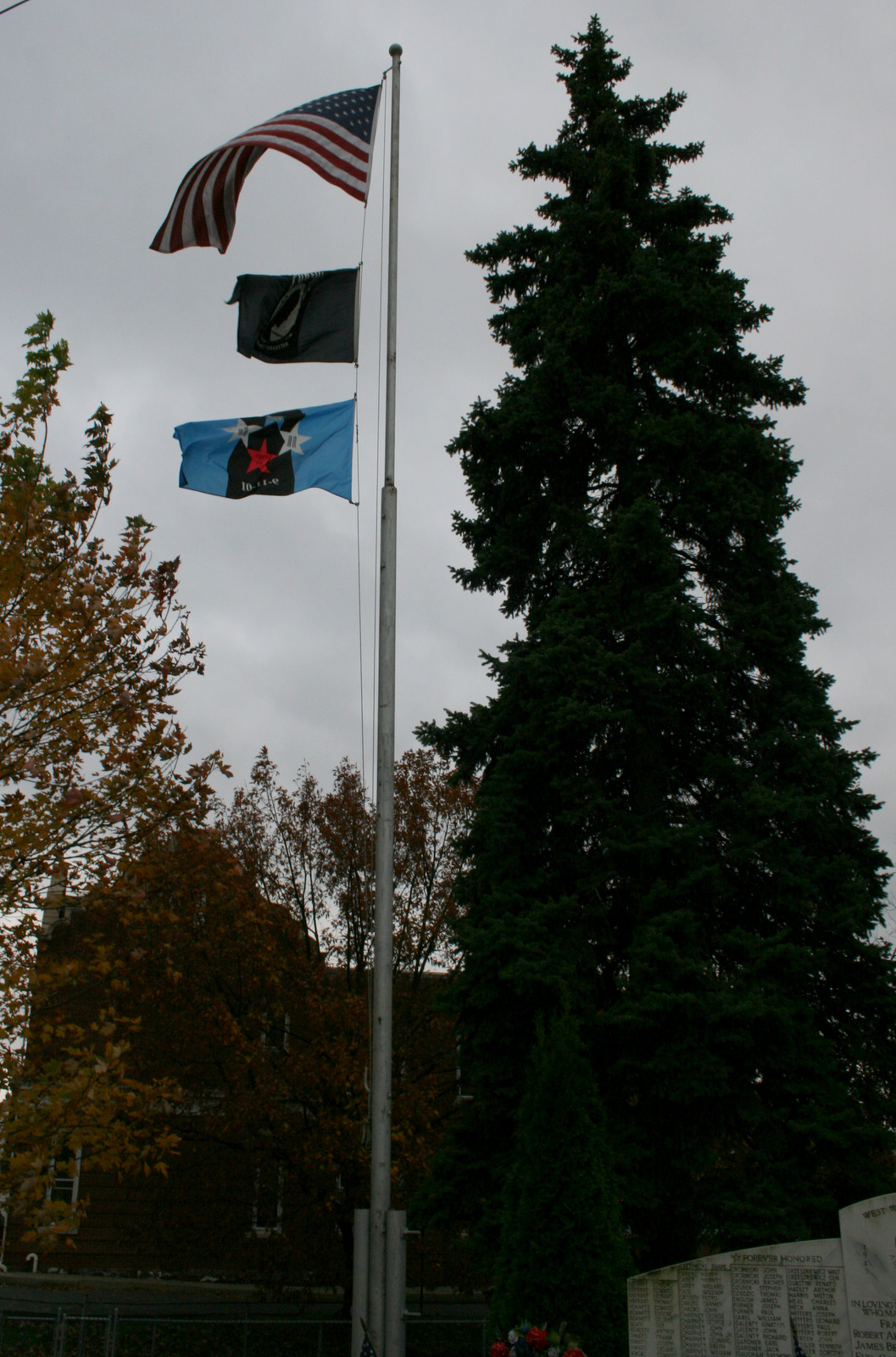 9/11 NRF in Wyoming, PA
Photo courtesy of Dr. Anthony Mussari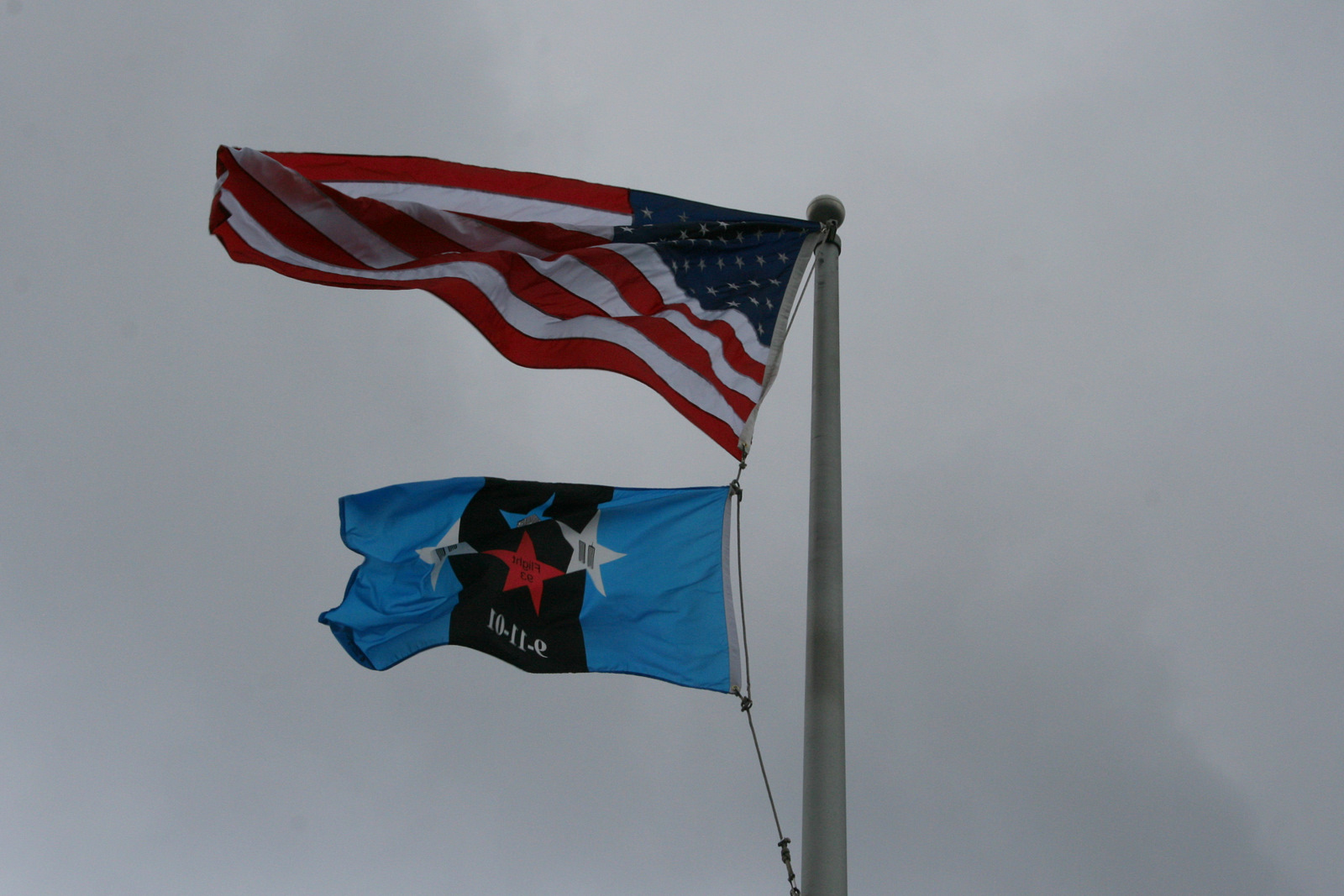 9/11 NRF at Pittson Memorial Library - Pittson, PA
Photo courtsy of Dr. Anthony Mussari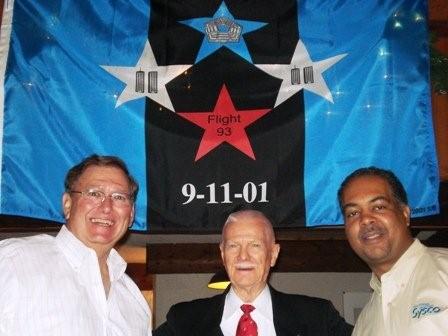 L to R: Mickey Yaeger, Major Richard T. Spooner,
Stan Davis
Photo courtesy of Mickey Yaeger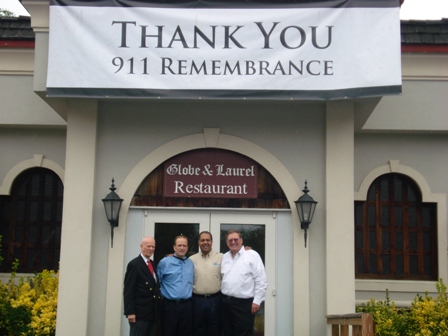 L to R: Marine Major (Ret.) Richard T. Spooner (owner
of the Global & Laurel Restaurant in Stafford, VA),
Mike McCue and Stan Davis of Sysco Eastern Maryland,
Mickey Yaeger of RPA Food Brokers
Photo courtesy of Mickey Yaeger

9/11 NRF at Flight 93 Temporary Memorial
Photo courtesy of Dr. Anthony Mussari
back to top
---
2010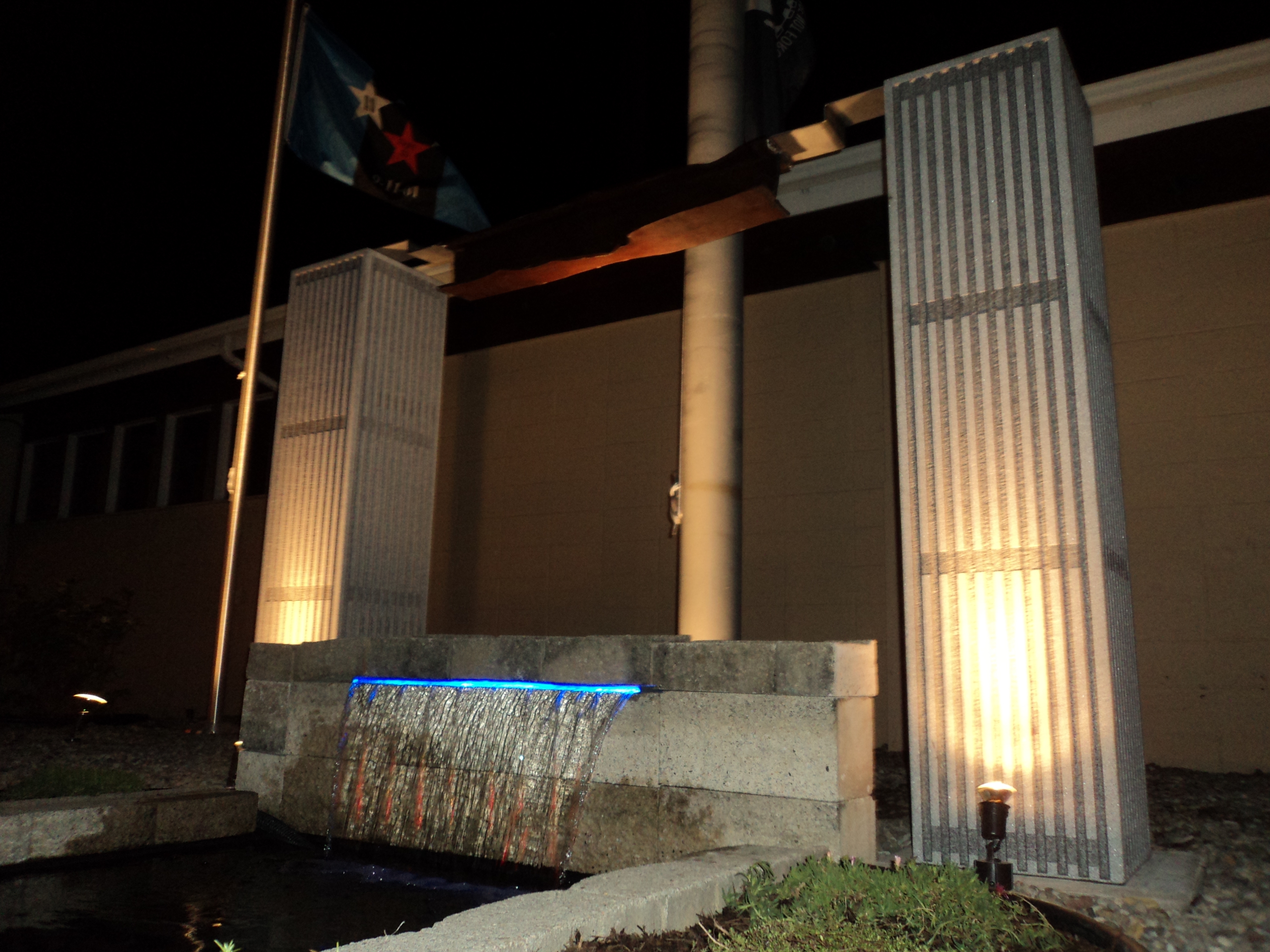 9/11 Memorial
Lanoka Harbor Fire Volunteer Fire Co.
Photo Courtesy of John Amrozewicz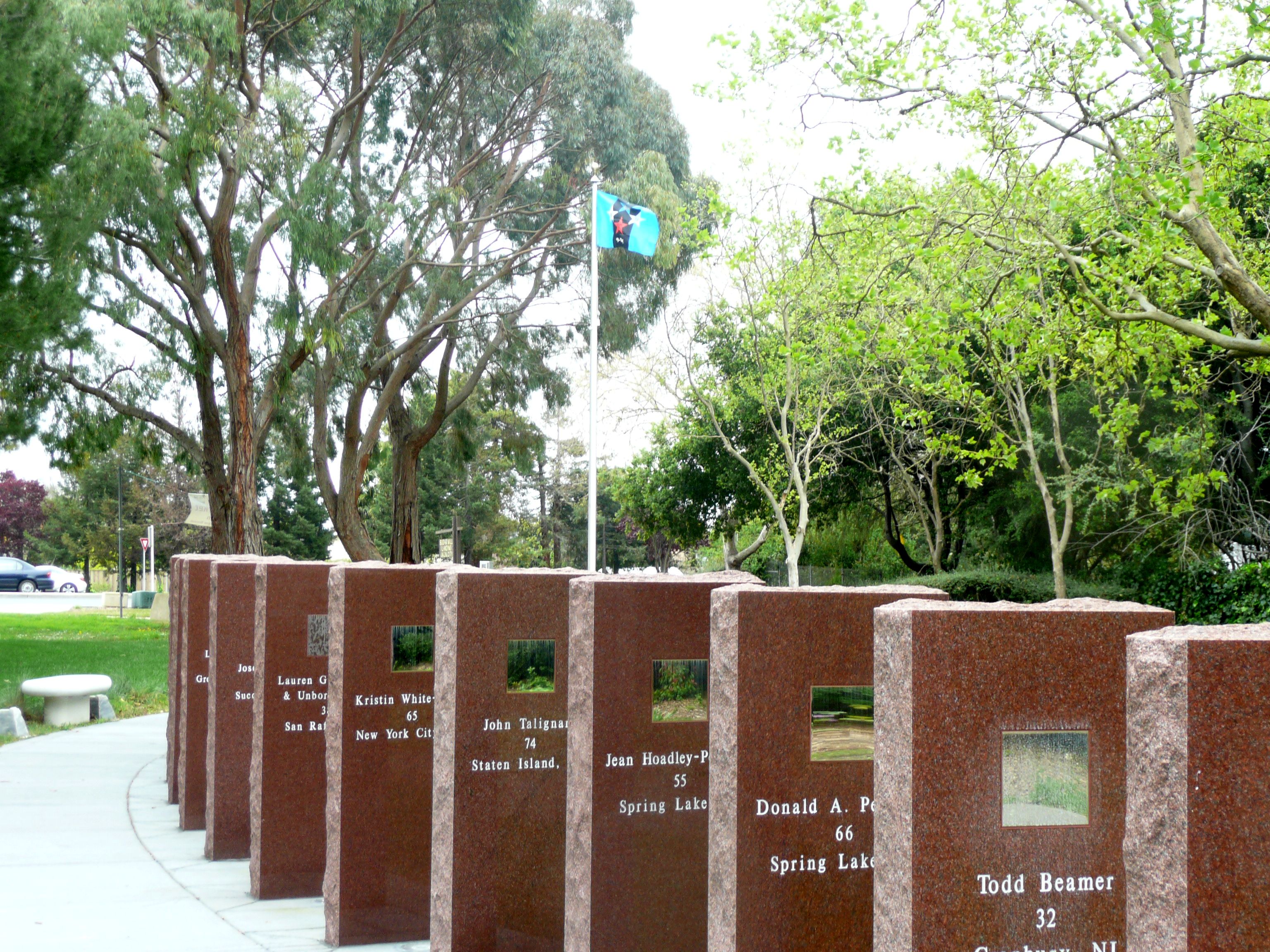 Flight 93 Memorial in Union City, CA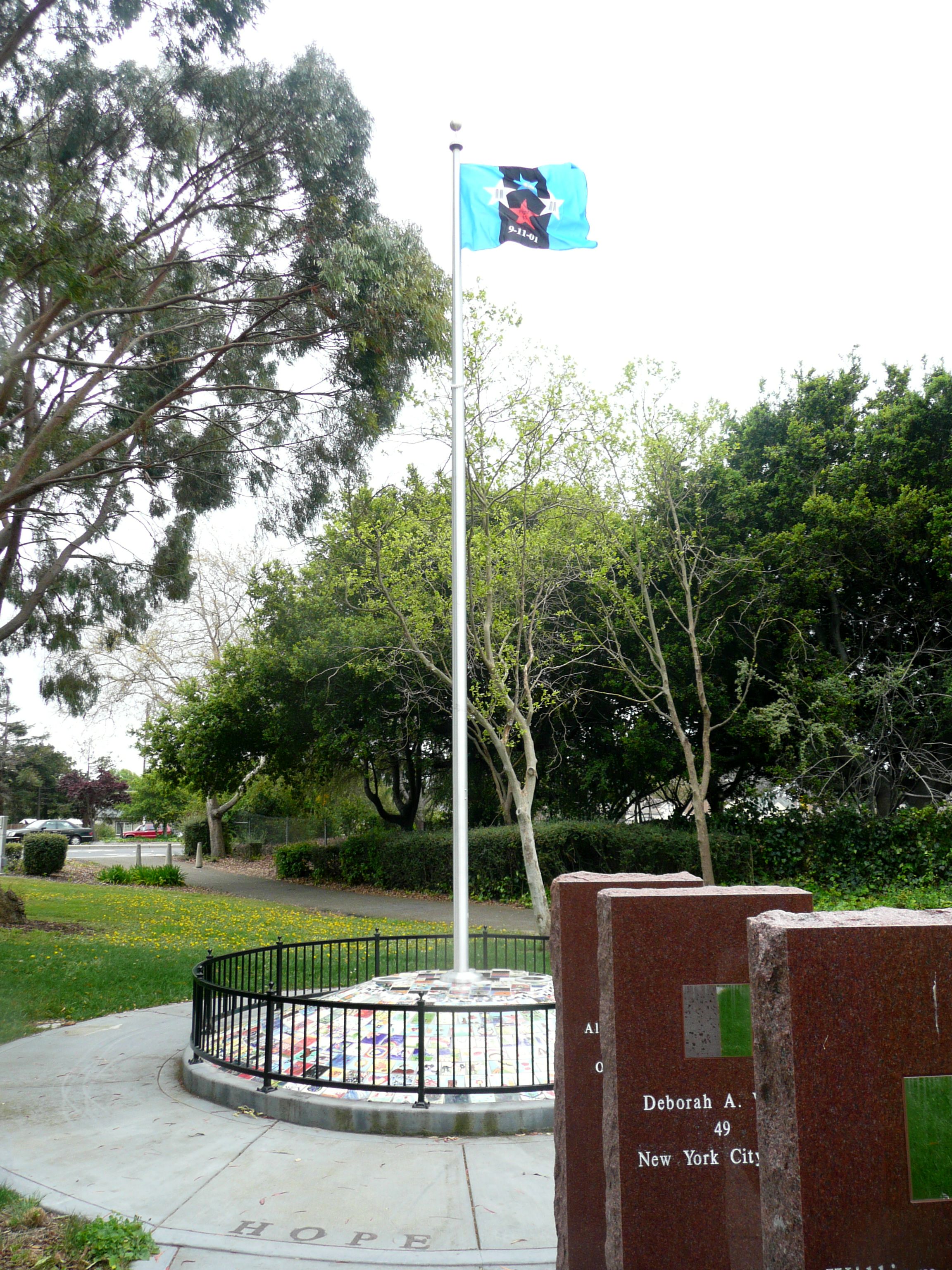 Flight 93 Memorial in Union City, CA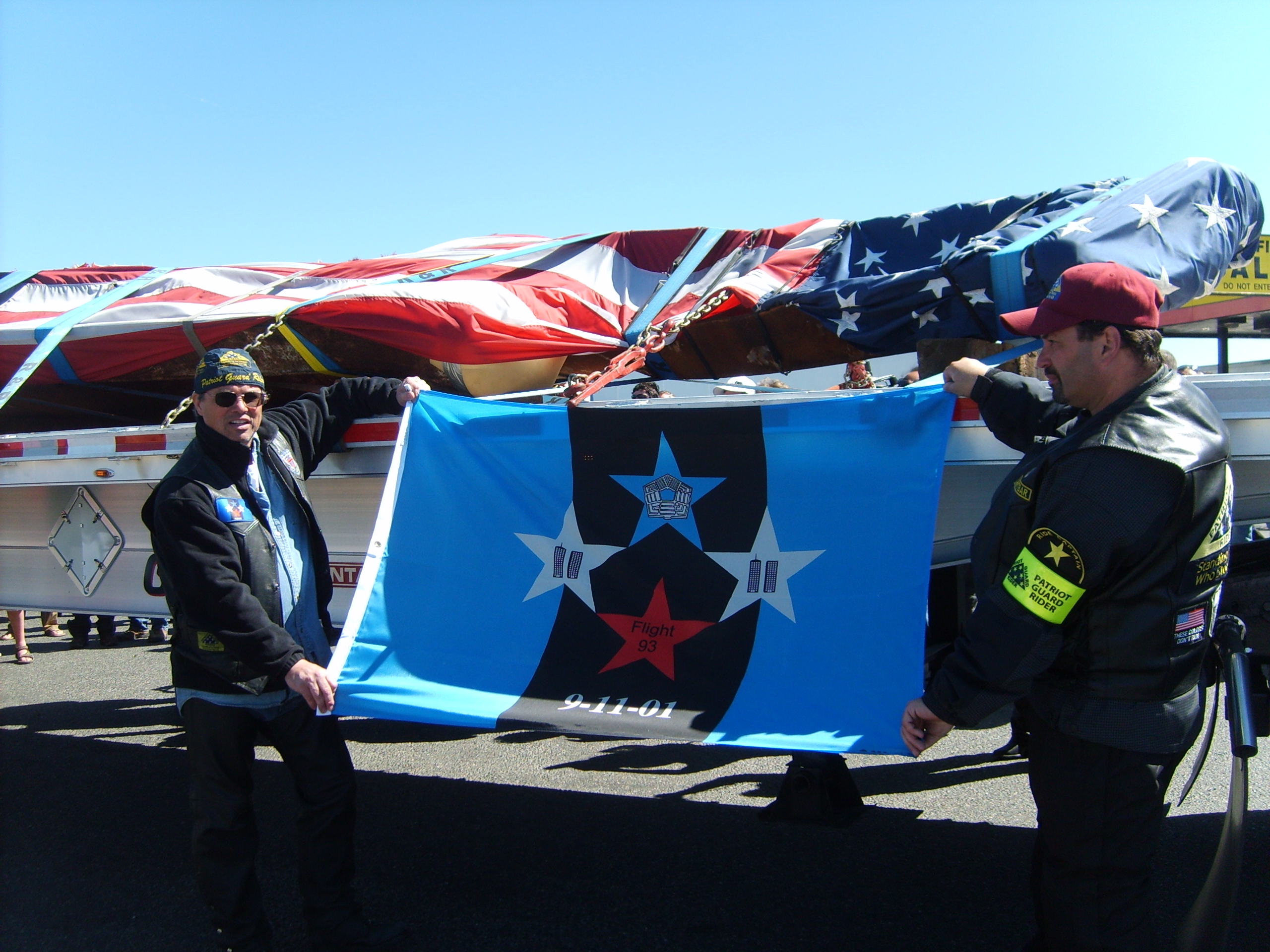 9/11 NRF accompanying steel from World Trade Center
Escorted by Patriot Guard Riders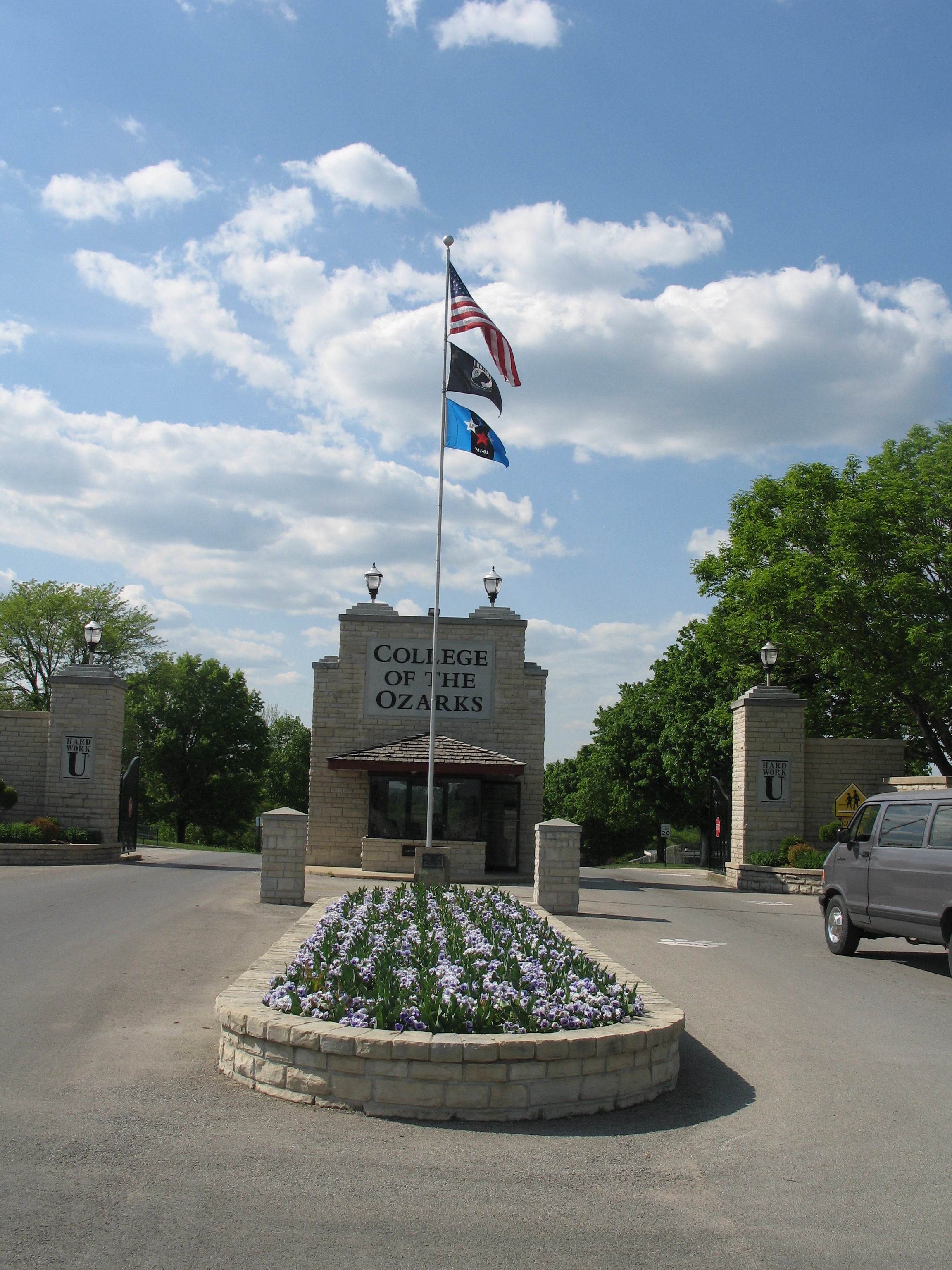 9/11 NRF at College of the Ozarks
Point Lookout, Missouri
Photo courtesy of Dr. Anthony Mussari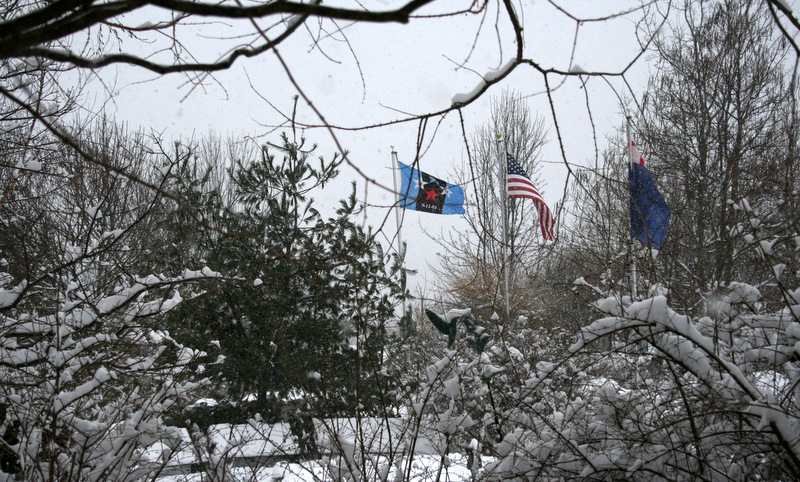 9/11 NRF at Windsor Park - Dallas, PA
Photo courtesy of Dr. Anthony Mussari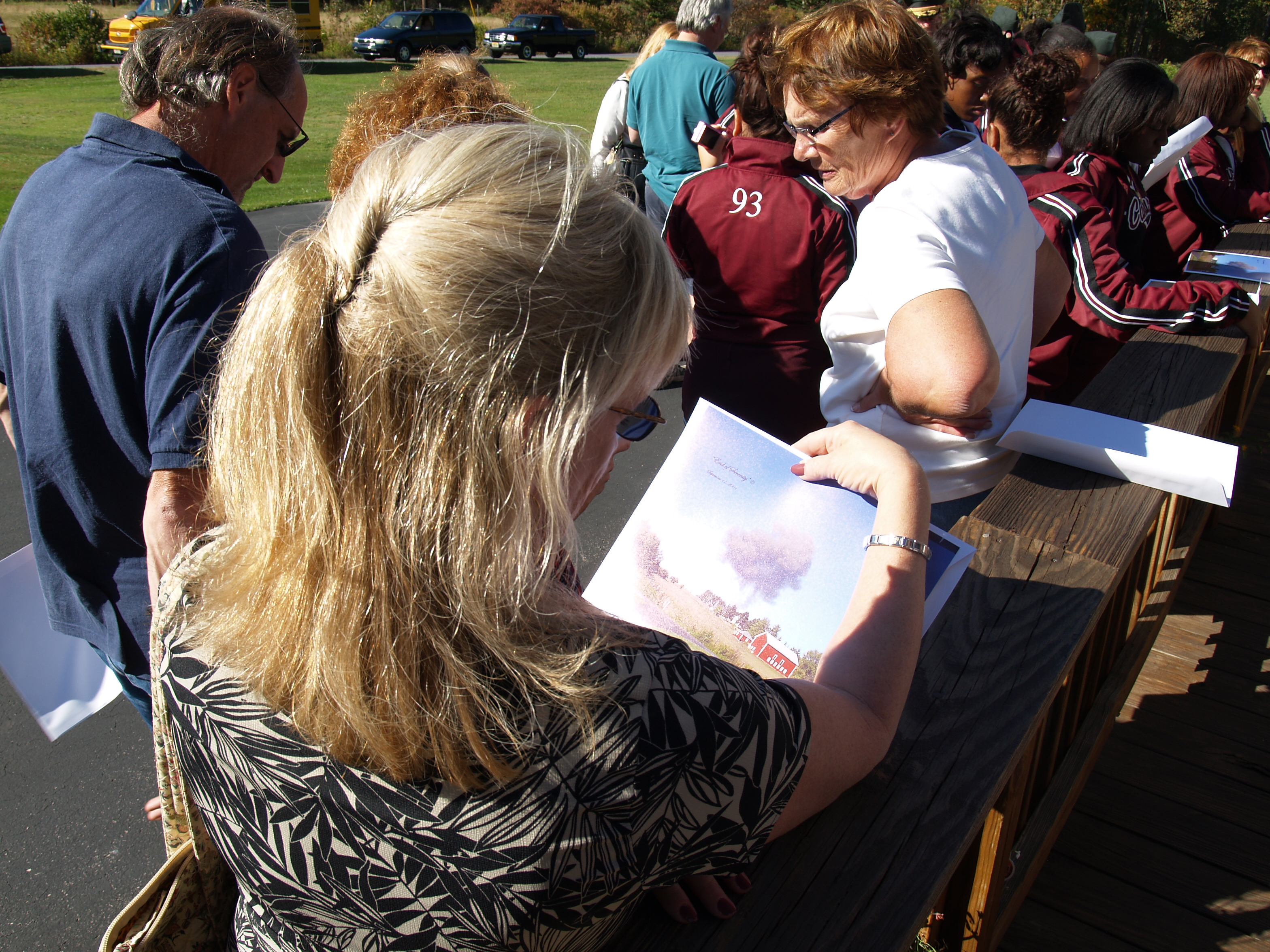 Receiving End of Serenity photo during Shanksville visit
Photo courtesy of Bill Gaydos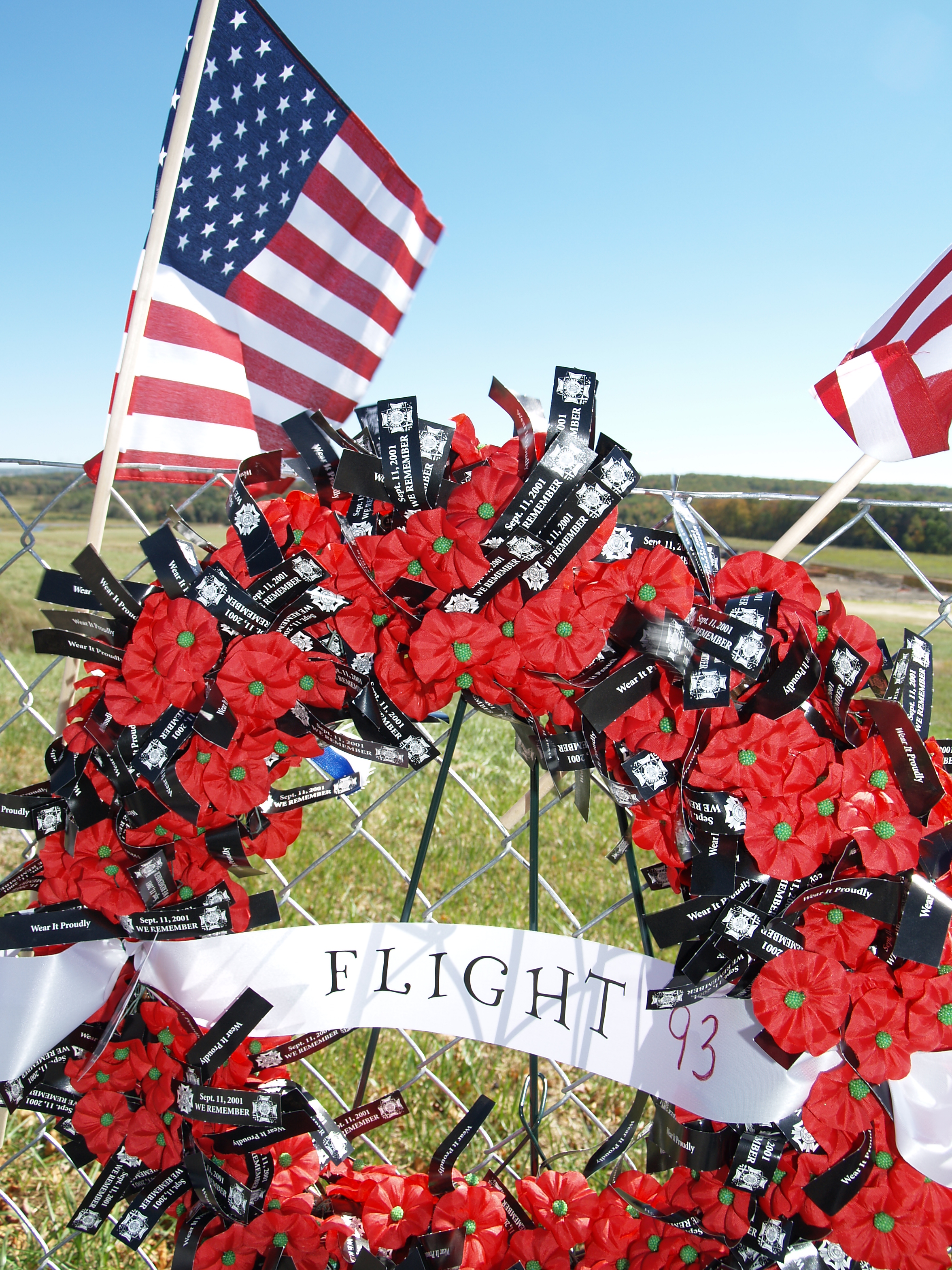 Wreath left at Flight 93 Temporary Memorial
Photo courtesy of Bill Gaydos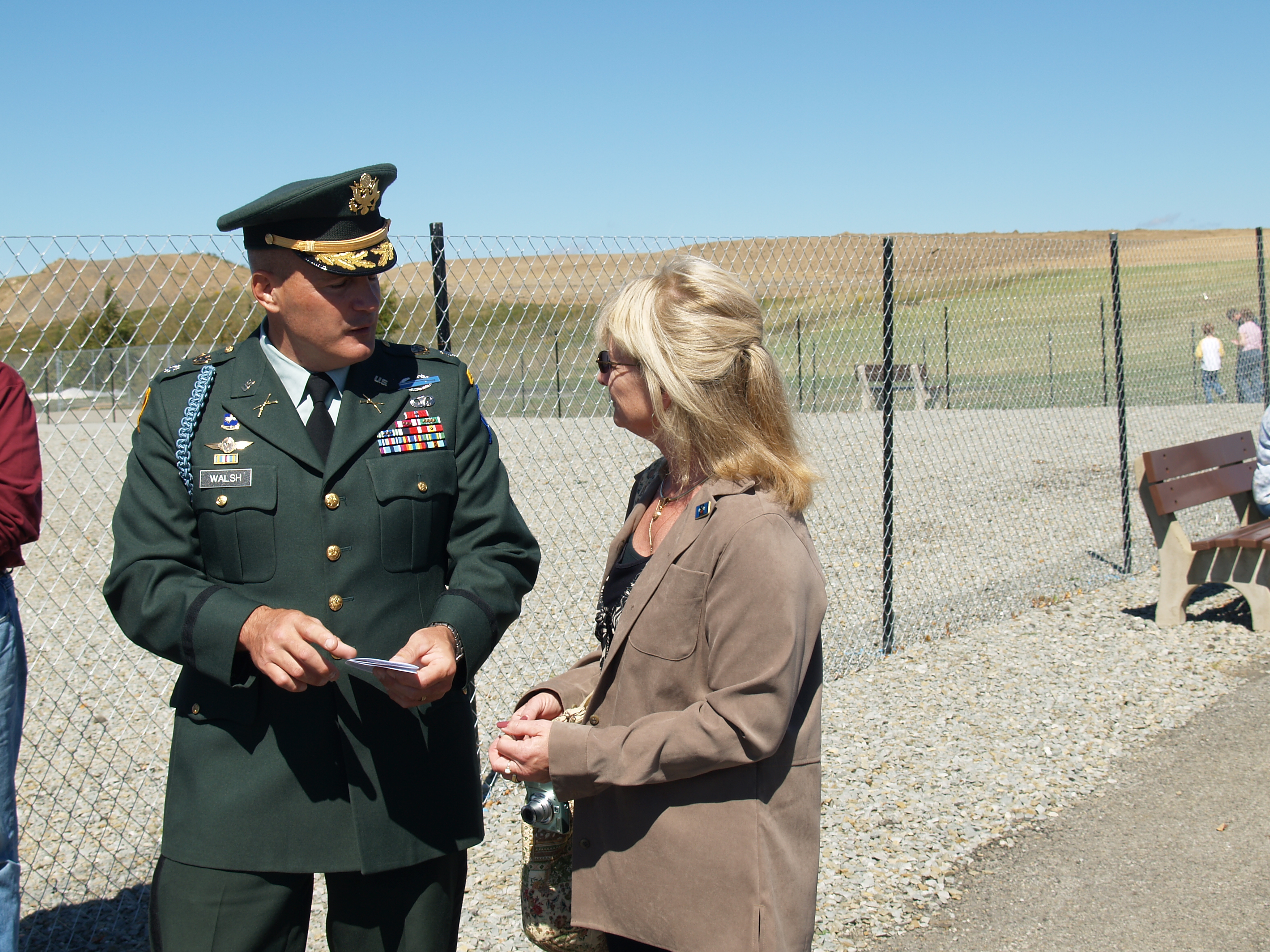 Flight 93 Temporary Memorial site
LTC Joseph Walsh - Shikellamy High School, Joanne Galvin
Photo courtesy of Bill Gaydos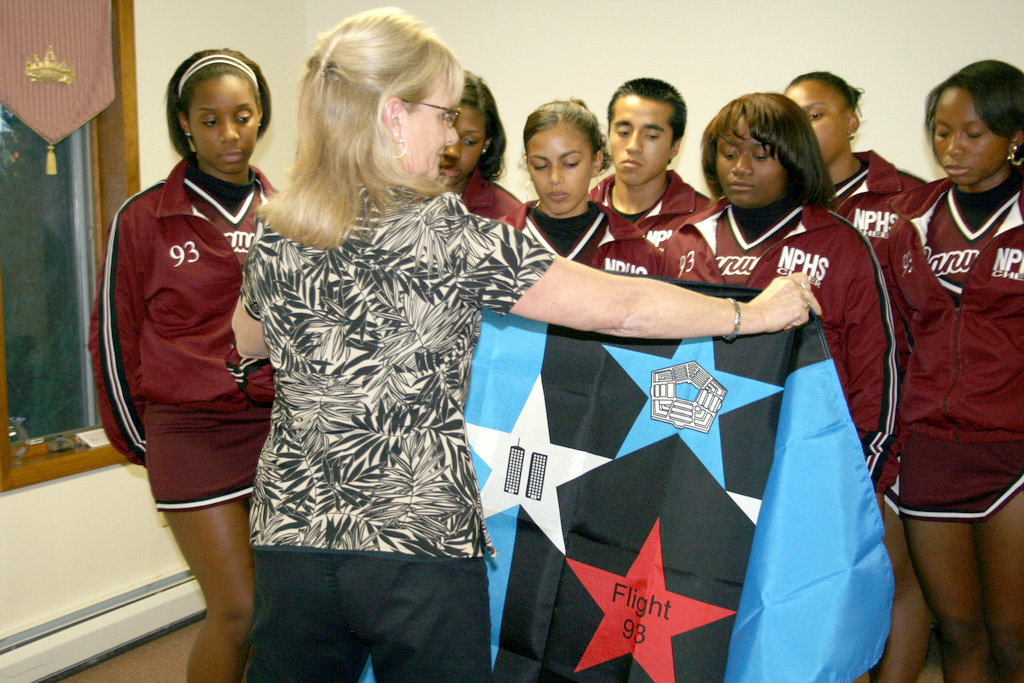 9/11 NRF Flag presented to North Plainfield, NJ cheerleaders
following visit to Flight 93 Temporary Memorial site
Photo courtesy of Bill Gaydos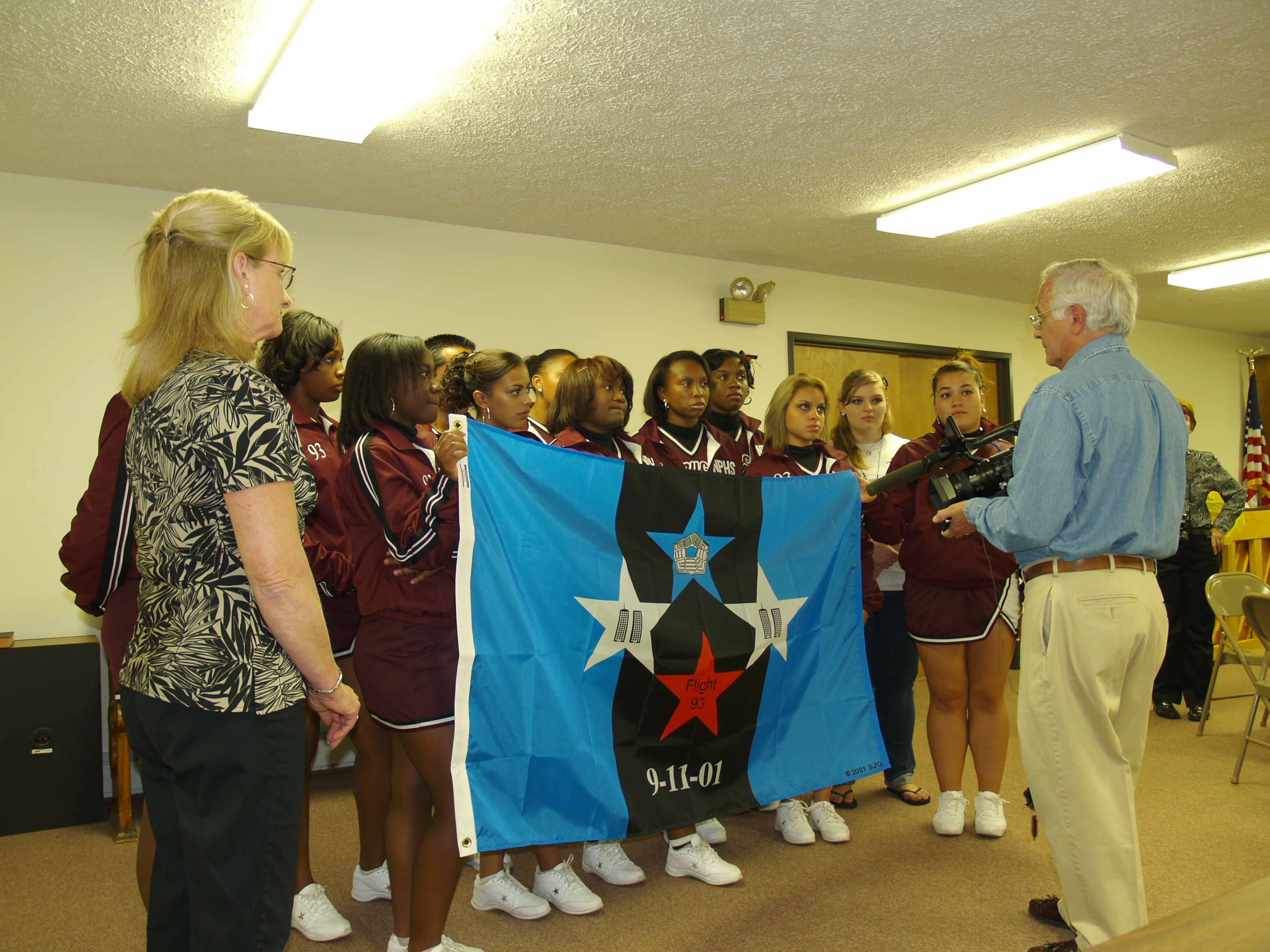 9/11 NRF Flag presented to North Plainfield, NJ cheerleaders
following visit to Flight 93 Temporary Memorial site
Photo courtesy of Dr. Anthony Mussari
back to top
---
2011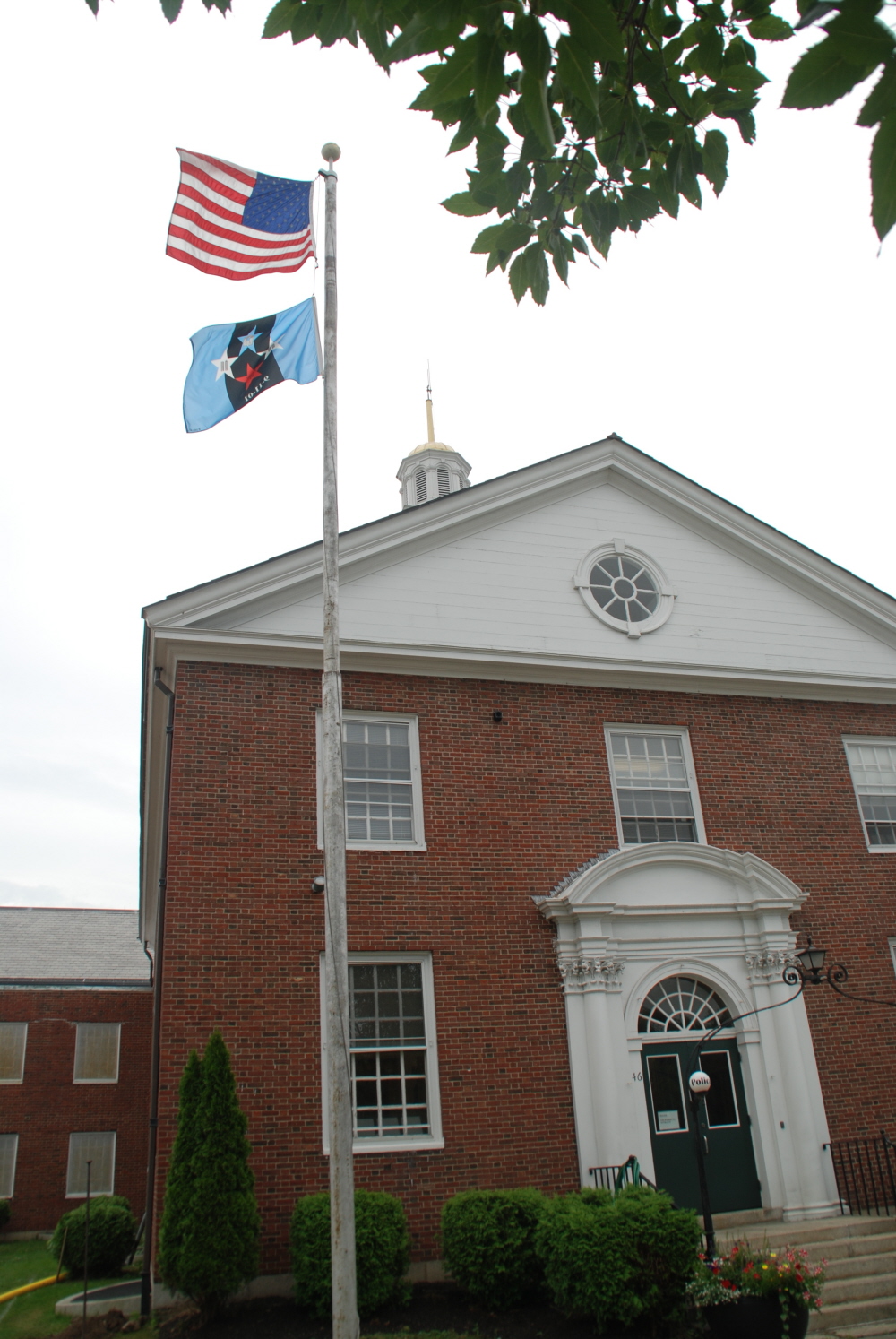 9/11 NRF being displayed at Auburn Police Department
Auburn, NY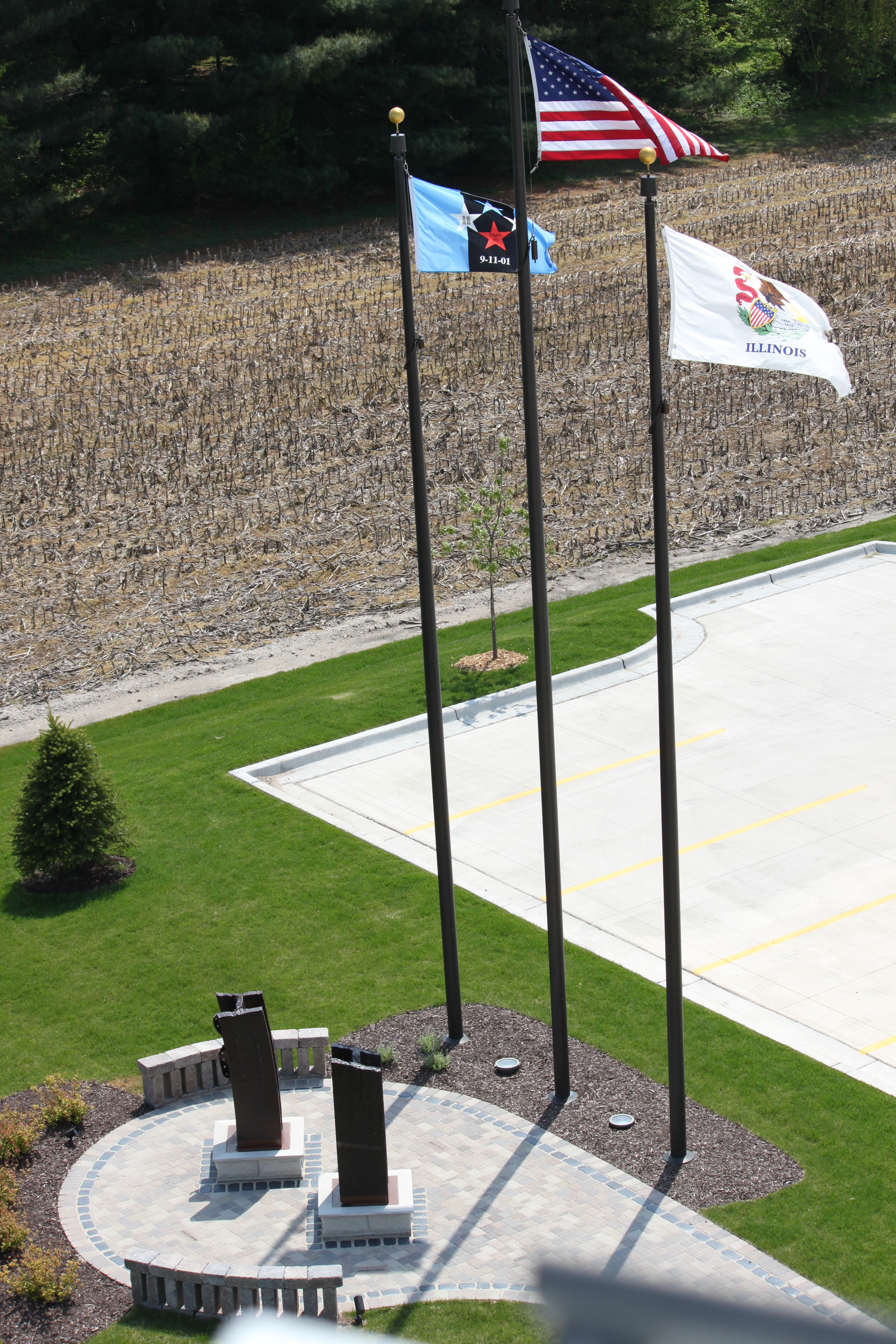 9/11 Memorial at Coal City FPD (Illinois)
Photo courtesy of Jean Lissy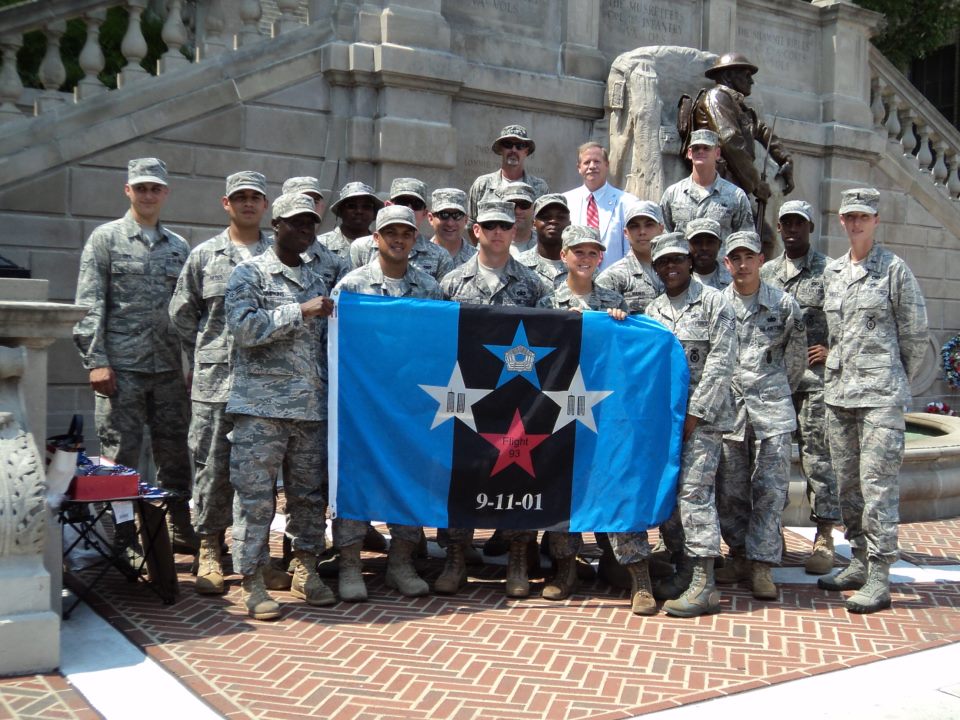 4th Security Forces Squadron from Seymour Johnson Air Force Base in
Goldsboro, NC and commanded by Lt. Guest. The gentleman in the suit and
tie is Virginia House of Delegates member T. Scott Garrett.
Photo courtesy of Pete Page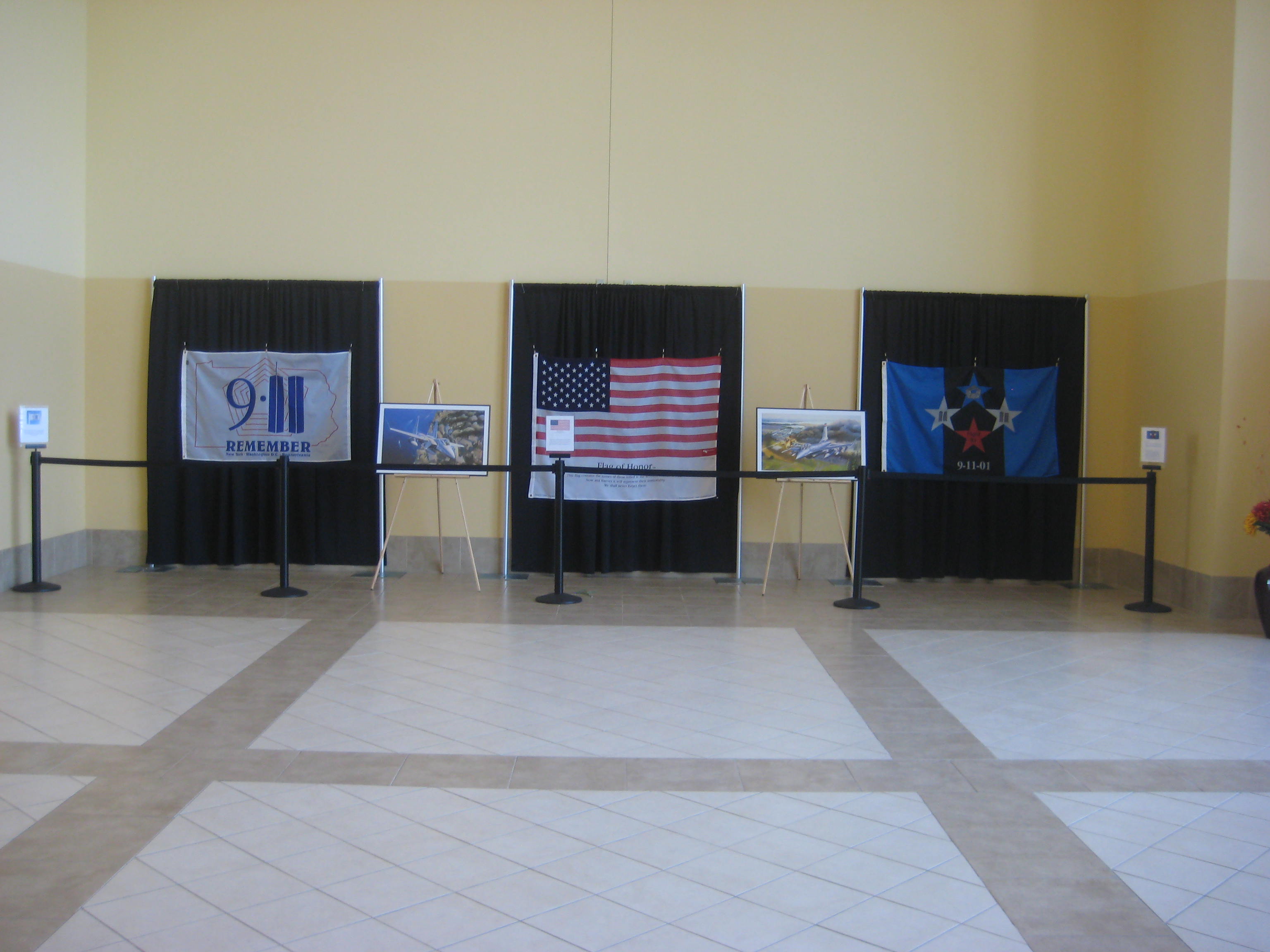 9/11 NRF being displayed at the Civic Center in
Port St. Lucie, Florida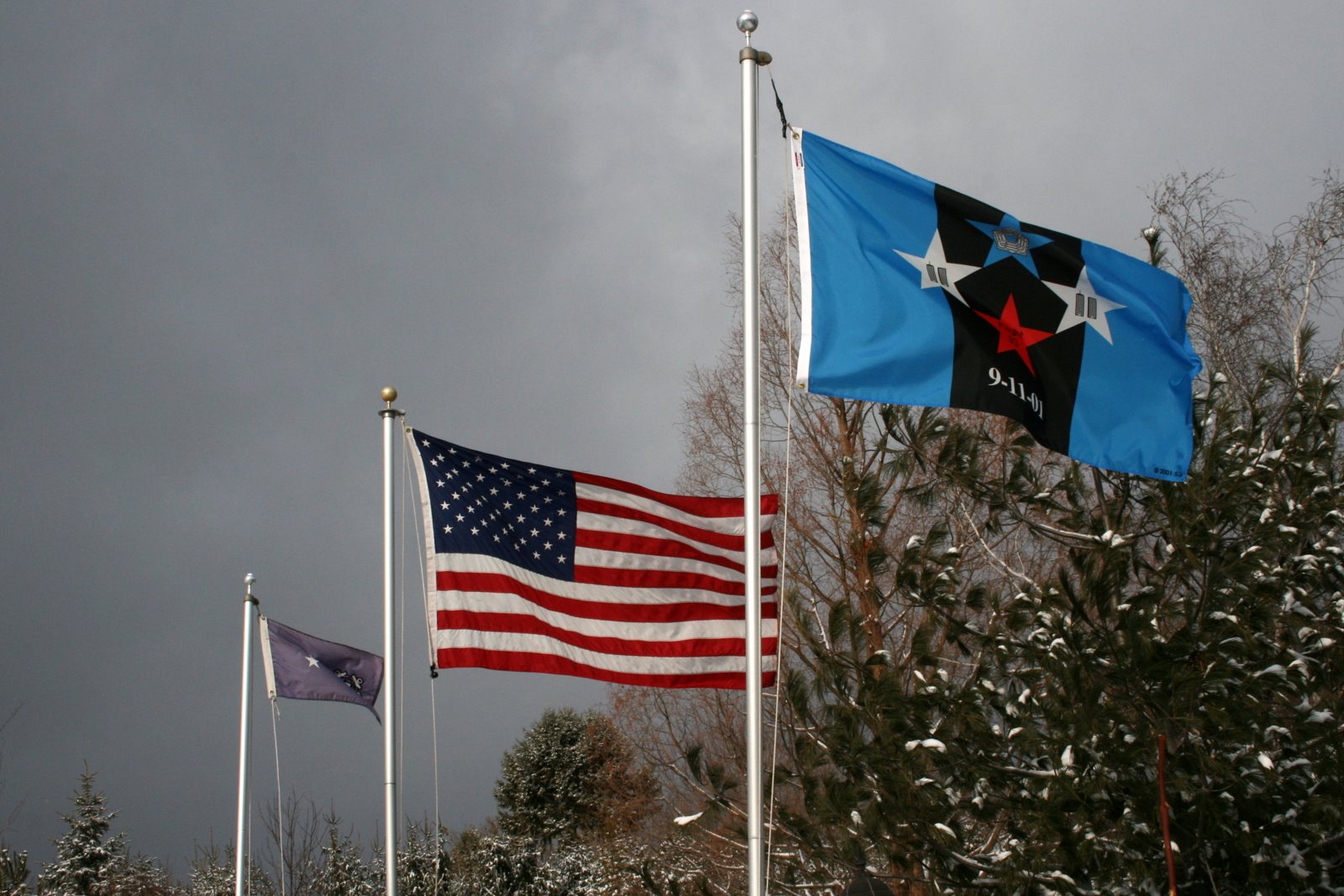 9/11 NRF at Windsor Park - Dallas PA
Photo courtesy of Dr. Anthony Mussari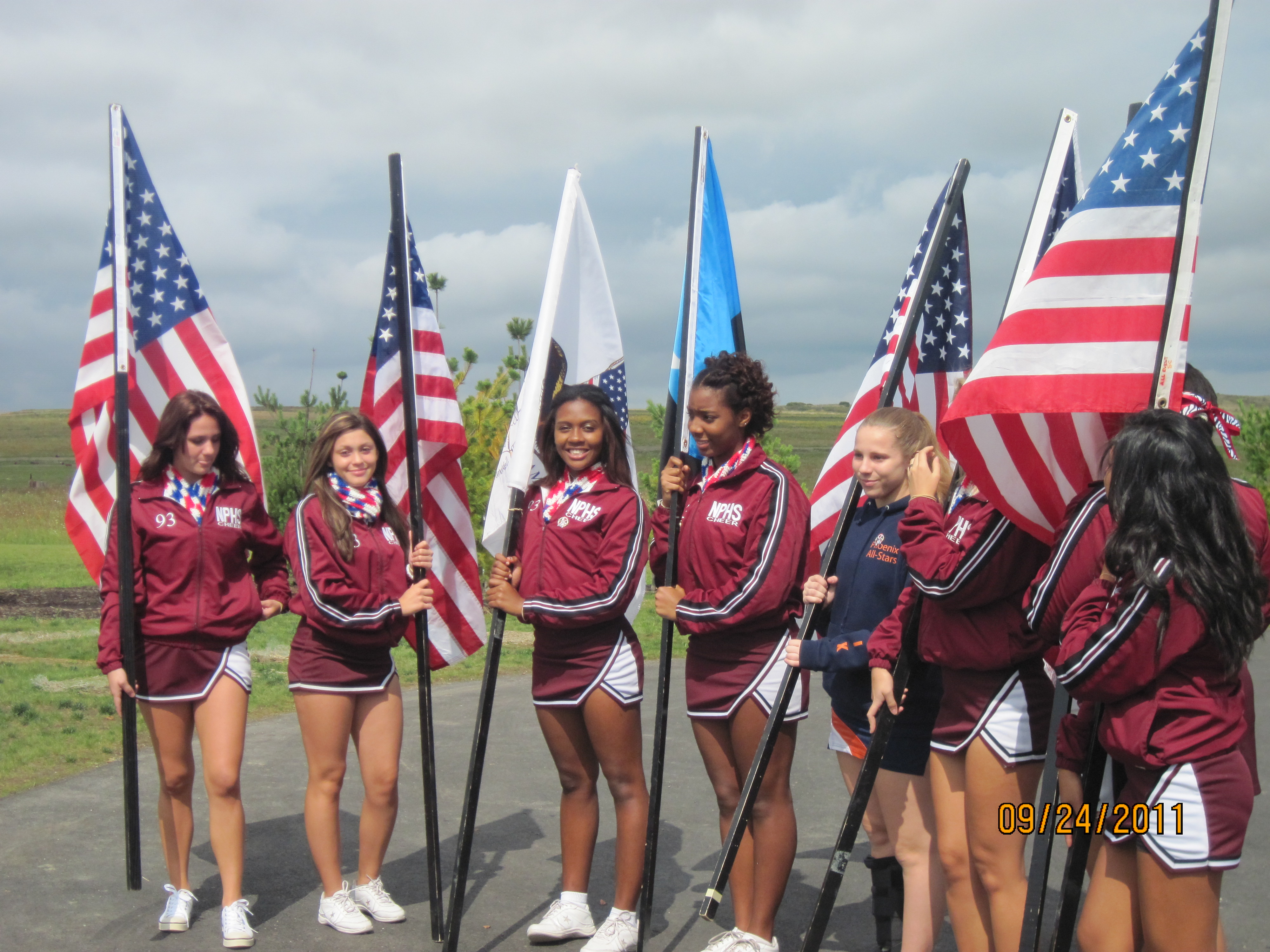 Visit to Flight 93 Memorial - Shanksville, PA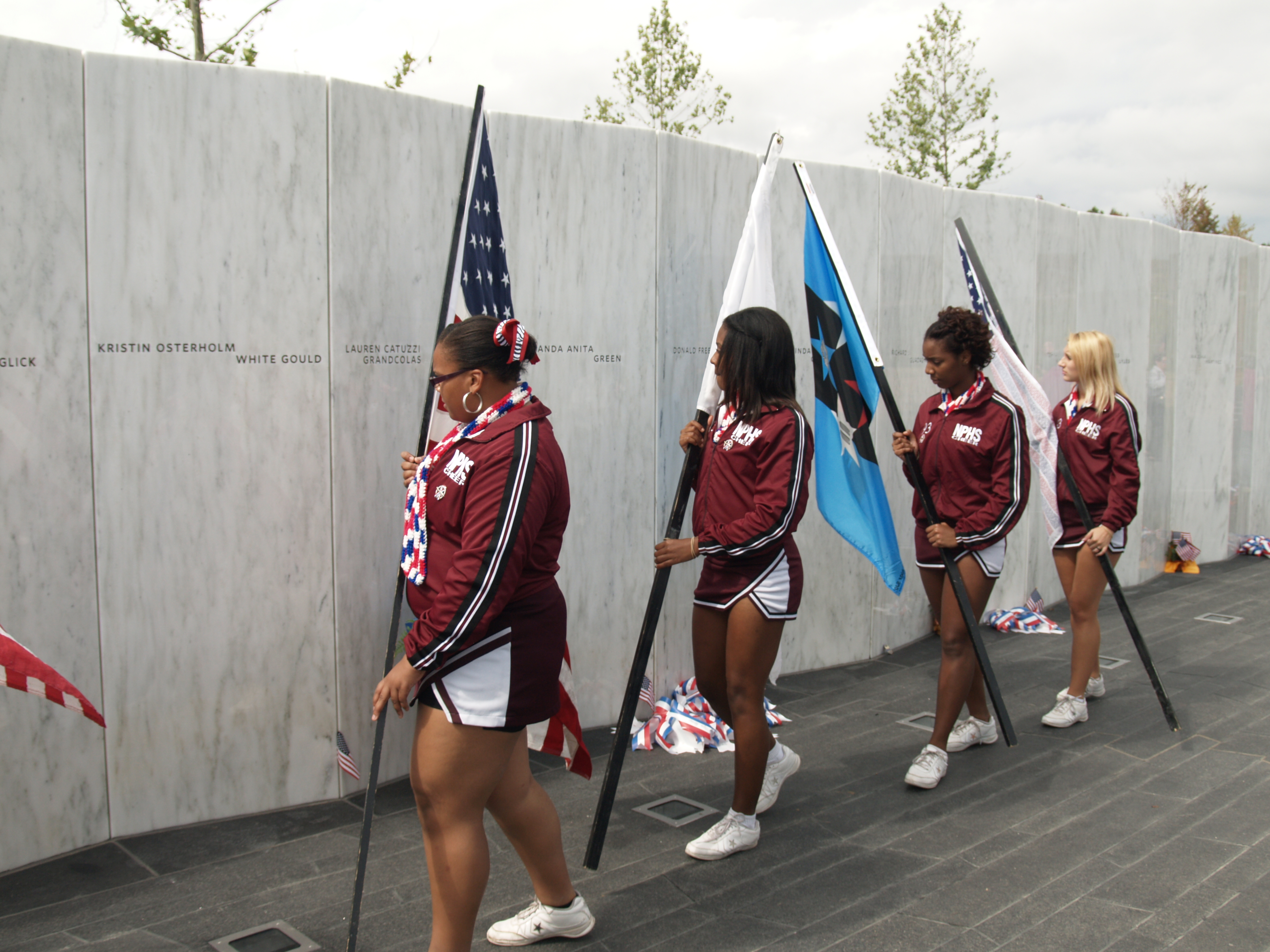 Visit to Flight 93 Memorial - Shanksville, PA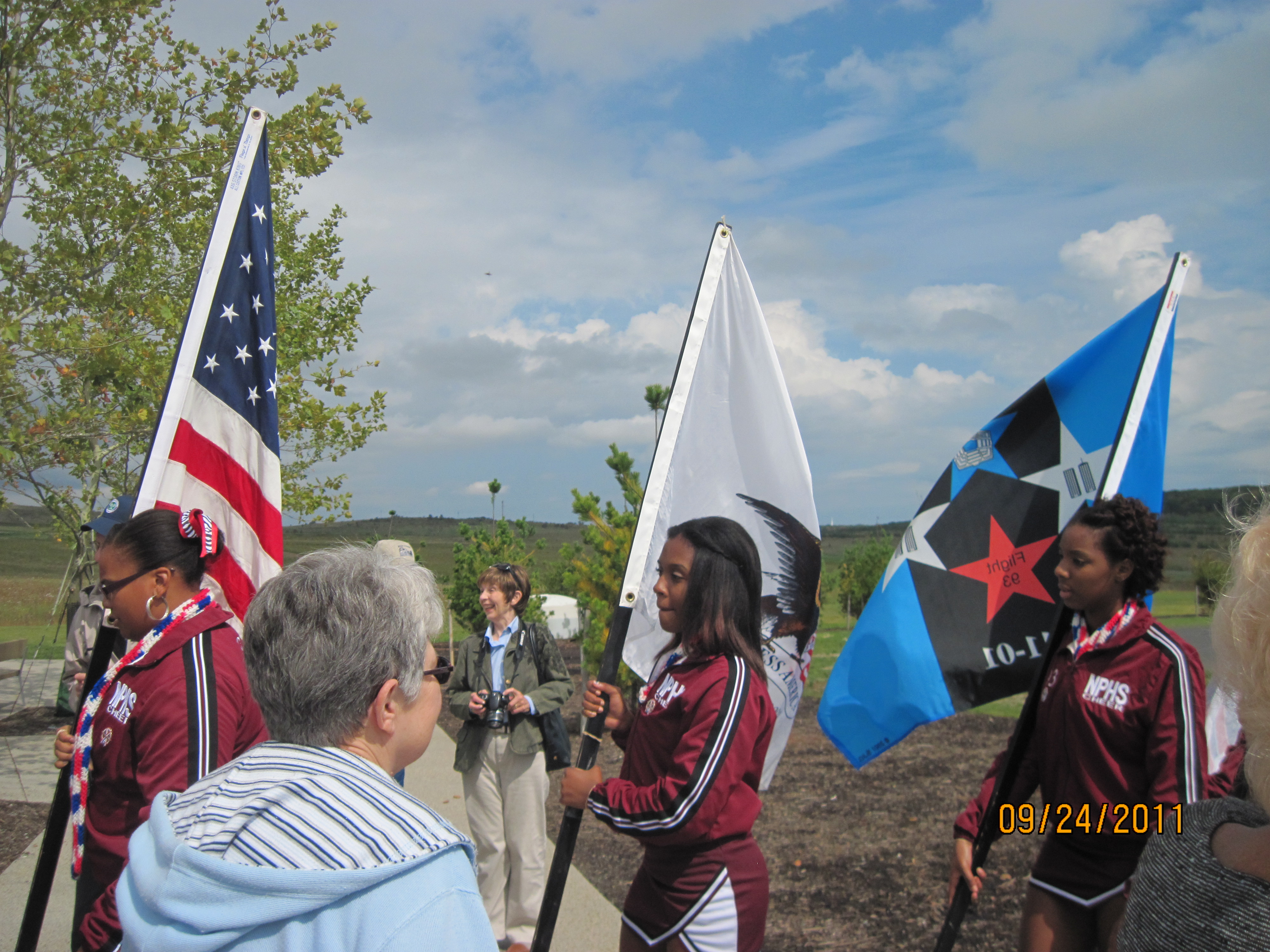 Visit to Flight 93 Memorial - Shanksville, PA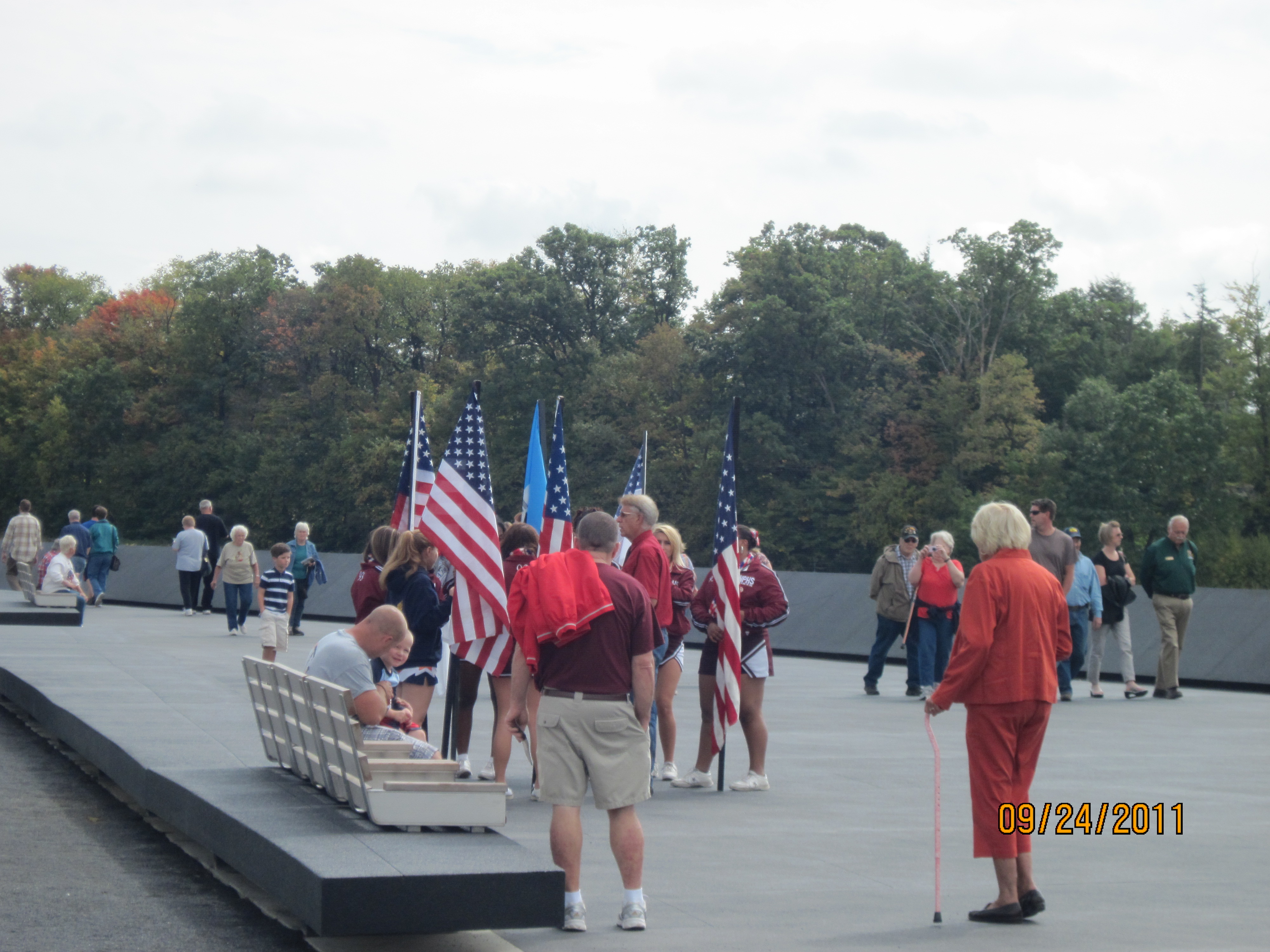 Visit to Flight 93 Memorial - Shanksville, PA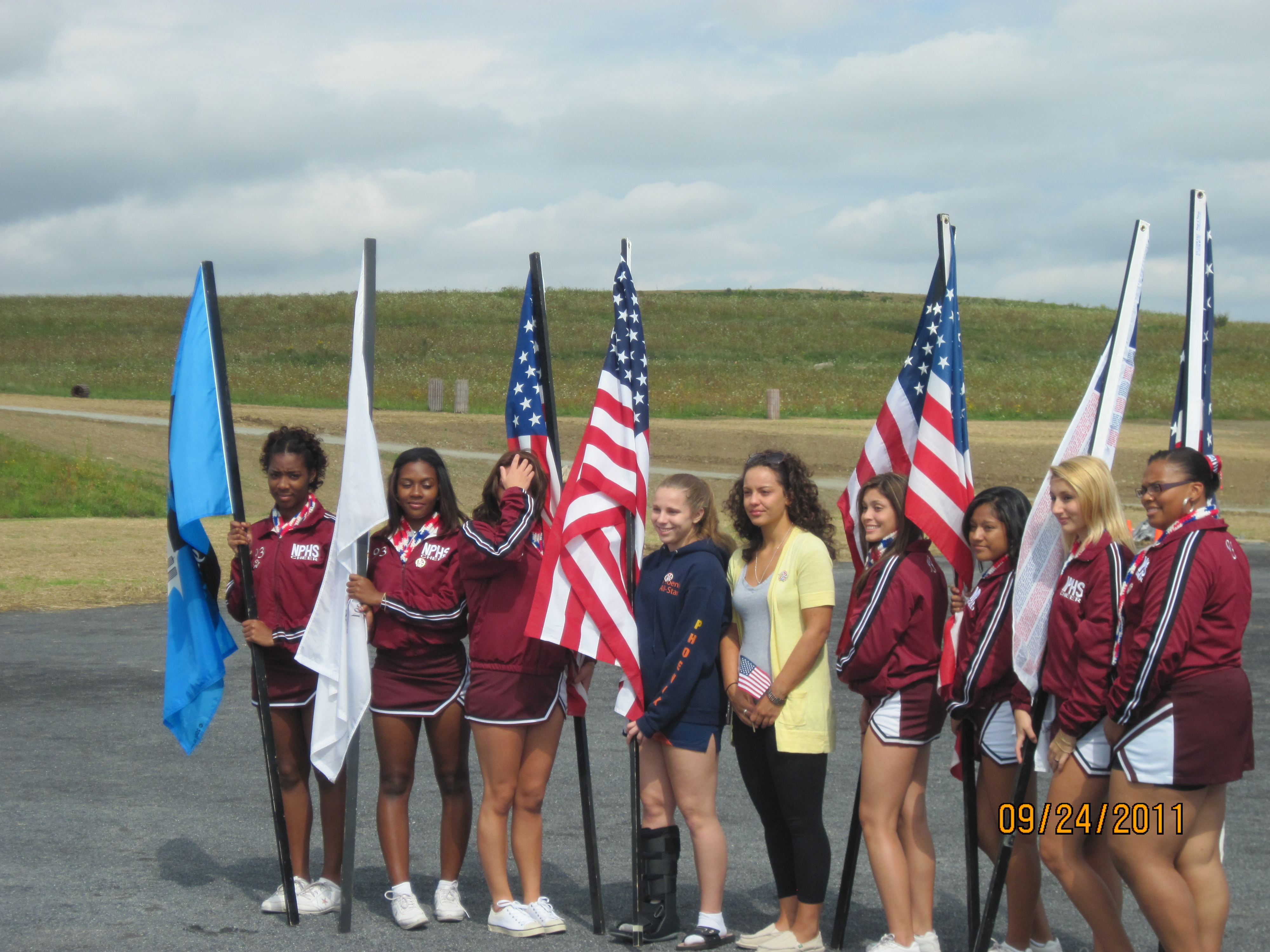 Visit to Flight 93 Memorial - Shanksville, PA
back to top
---
2012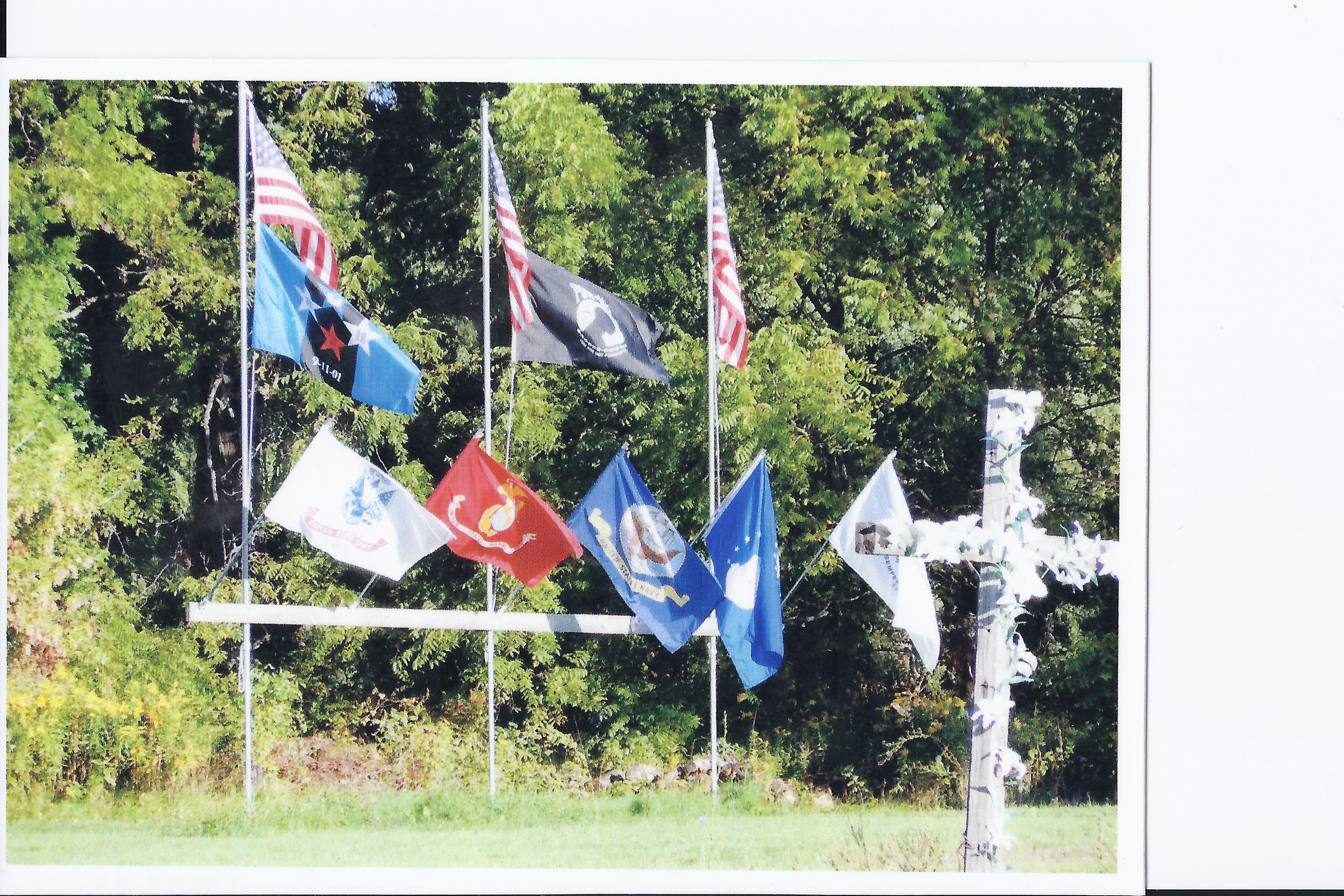 Flag display in Phelps, NY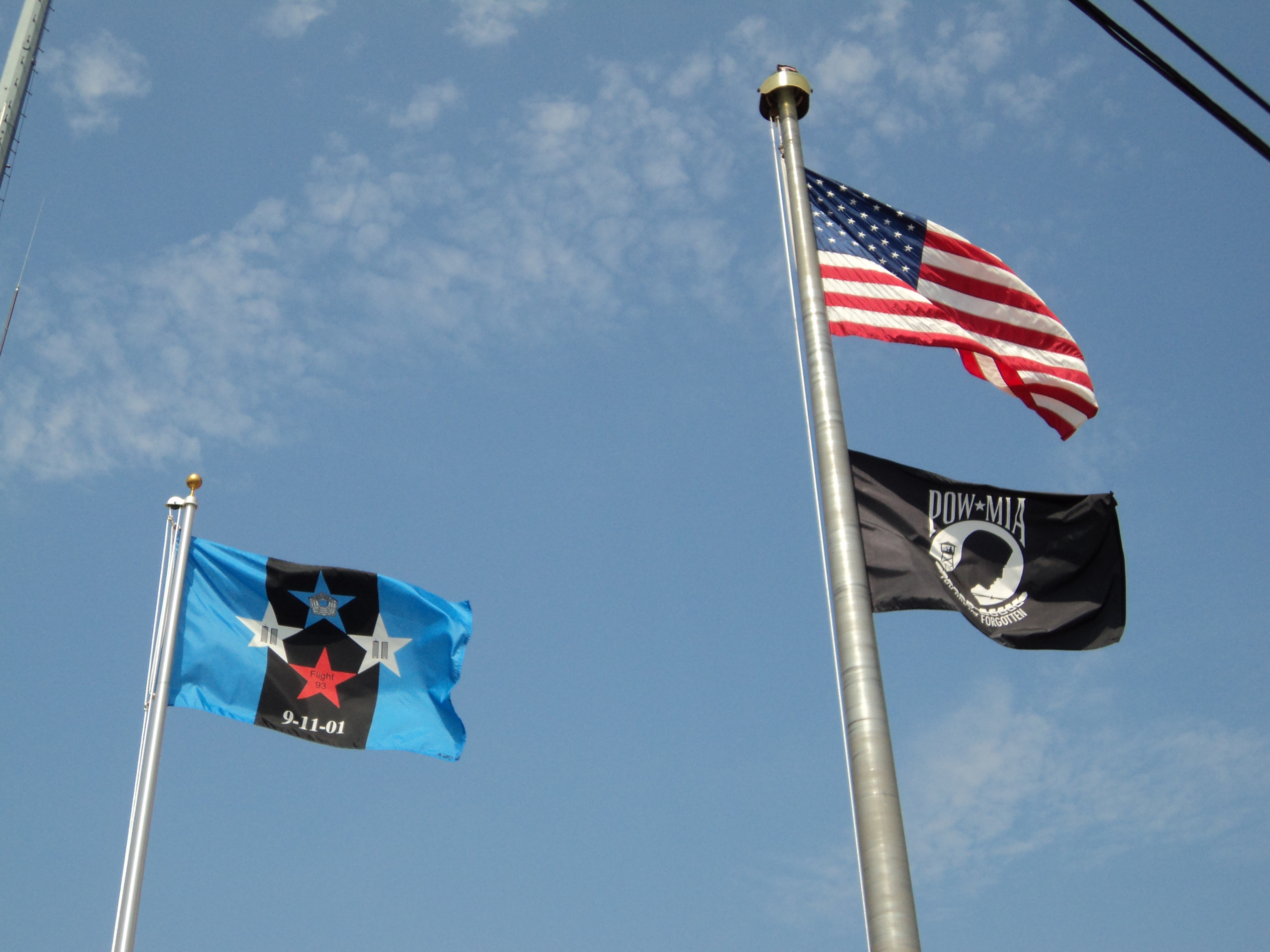 9/11 NRF with US and POW flag
Photo courtesy of John Amrozewicz
back to top
---
2013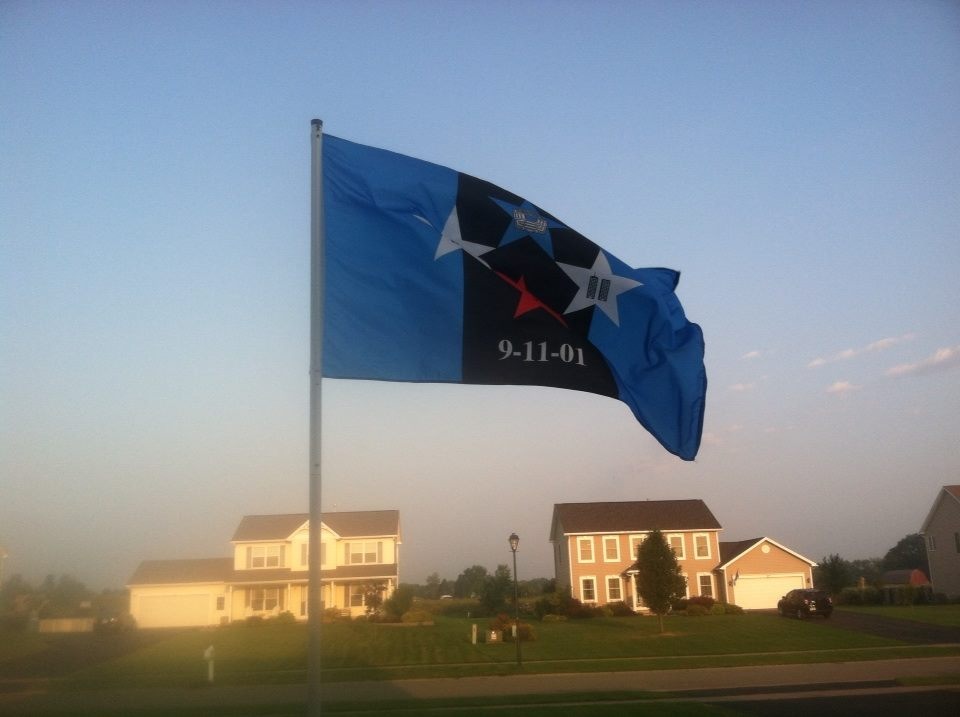 9/11 NRF being displayed in Greece, NY
back to top